Includes:
4 Kicker 6.5" KM654 Speakers with White and Charcoal Grilles
1 Kicker 4 Channel Marine Amp
(1) Stinger 4 AWG 7M Marine Amp Kit
Overview
Our Kicker Marine 6.5" KM65 4 speaker stereo package includes 4 speakers, a Kicker amplifier, and a 4 AWG marine amp kit. This package includes the basics you need to either build or upgrade your marine stereo system with high quality sound that will play crystal clear and over the engine, wind, and water noise when you are out on your boat. You can select between LED and non-LED speakers, and we offer two amplifier selections, a 400 watt 4 channel Kicker KXMA amp, and a 300 watt 4 channel, Kicker KMA amp. Finally, we include a 7m, Stinger 4 AWG marine amp power kit to deliver power from your battery to your amplifier.
Speakers
The Kicker KM65 speakers are among the best values in 6.5" marine speakers. These speakers include both white and charcoal grilles in the box and they use the same materials and components of more expensive, higher-end speakers. The KM65 speakers have a .75" titanium dome tweeter to deliver crystal clear highs without sound shrill like an aluminum dome tweeter can. This is the same size tweeter and teh same tweeter material used on the Wet Sounds REVO 6 which retail for nearly double the price. These speakers can handle 65 watts of RMS power making them a perfect match for virtually any marine amplifier. The KM65 speakers have a completely sealed motor, use Santoprene rubber surrounds, and deliver quality, value, and durability. You have the choice to choose between the LED model (KM654L) and the standard model (KM654).
Amplifier
We offer two, 4 channel amplifier options with this kit. The first is the Kicker KXMA400.4. The KXMA line is Kicker's top of the line marine amplifier offering and these amps over deliver with their power output, signal processing, thermal management, and onboard features. The KXMA amps are rated at 50 watts RMS per channel at 4 ohms, but the actualy output is much higher than that and they give the exact specs of each amplifier inside the box. The KXMA amps have selectable, 12/24 dB per octave crossovers to help you better fine tune the amplifier for the specific frequencies you want. When setting the gains on the amplifier, the KXMA amplifiers have clipping indicators to tell you when the amplifier is clipping to help you fine tune the gain so that you maximize output without distortion that can damage and blow your speakers
In addition to the KXMA amplifier, we also offer a lower-cost option with the 300 watt, Kicker KMA 4 channel amplifier. When comparing the two, the KMA does not have the 24dB per octave crossover, it does not have the clipping indicators, and the thermal management on the KMA is not as good as the KXMA. You will find that the KXMA amps outperform their rated power to a much higher extent than the KMA amps. This is not to say that the Kicker marine amplifiers are not good amps, they definitely are, the KXMA are just better. The 4 channel KMA amplifier is rated at 37W RMS at 4 ohms and 75W RMS at 2 ohms.
Amp Kit
To get the power from your battery to your amplifier, we include a Stinger 4AWG 7m marine amplifier wiring kit. This kit comes with roughly 23 feet of power and ground wire. The power and ground wire are molded together like what you typically find with speaker wire, allowing you to make a single run from your amplifier to your battery. You don't have to worry about taping wires together, twisted wires or any of the other headaches that sometimes come with pulling multiple, larger gauge wire. The power and ground wires are red and yellow to follow the standard, marine colors for power and ground on 12v systems. The kit includes a weather resitant fuse holder and an 80 amp fuse. If you choose to use a circuit breaker, that is sold separately.
Other Things You Might Need (Shown On This Page, Past the Product Specs)
RCA Cables
RGB or Marine Speaker Wire, Depending on Speaker Selection
Marine Circuit Breaker
A Head Unit or Bluetooth Controller
Kicker KM65 6.5" Marine Speakers White & Charocal Grilles 4 Ohm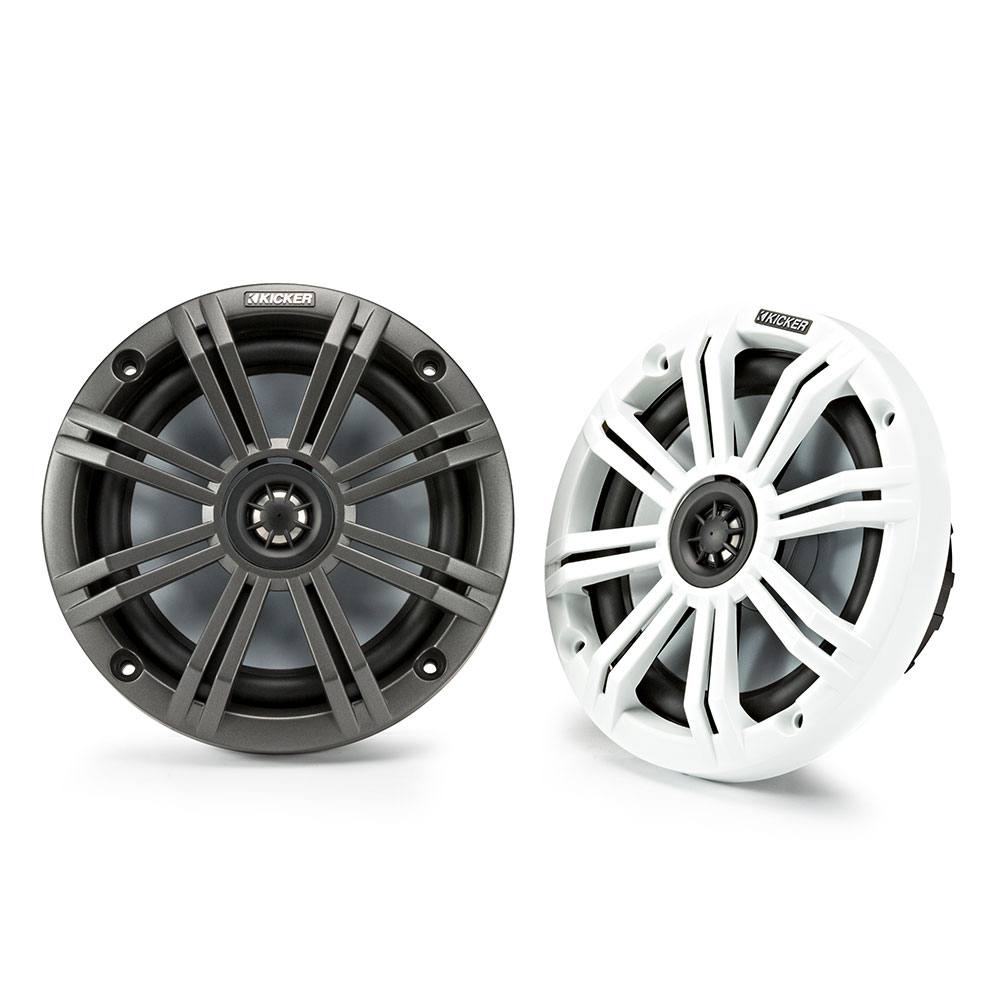 RMS Power Handling
65 Watts
Peak Power Handling
195 Watts
Frequency Response
35 Hz - 21 Khz
Sensitivity
90.0db @ 1W/1m
Mounting Depth
2.785" (72mm)
Mounting Hole Dia.
5.125" (130mm)
Grilles Included
Both White and Charcoal
LED Lighting
No (P/N 45KMC654L Has Lights)
Stinger Marine 4ga Amp Power Kit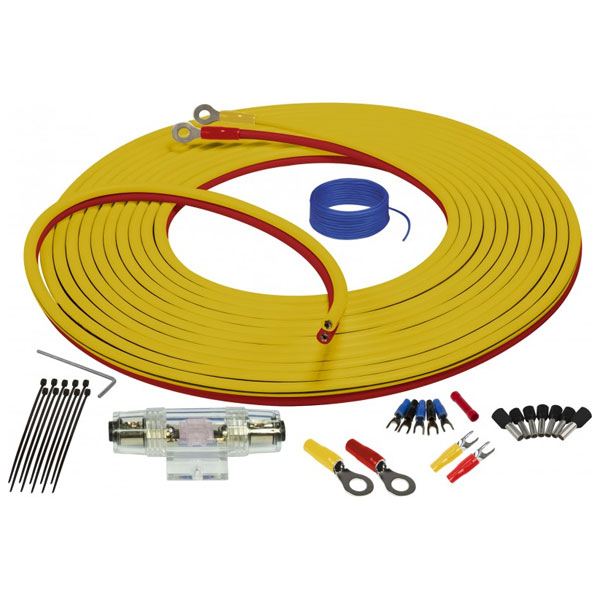 Power/Ground Wire Length
22.96 ft (7m)
Remote Wire AWG/Legnt
22.96 ft(7m)/18ga
Fuse Holder
Water Resistant MIDI/AFS
Included Fuse Rating
80A MIDI/AFS
Ring Terminals Included
2 4ga Power (Red & Yellow)
Power/Ground Wire Ferrules
2 Pcs (4 ga)
Speaker Wire Ferrules
4pcs (16ga)
Remote Wire Ferrules
1pc (18ga)
Spade Terminals
5 pcs 16-22ga
Fork Terminals
2 pcs (8 ga)
Butt Connectors
1 pcs (22-18ga)
Cable Ties
20 pcs, 7" Long
Why Should You Buy from MarineStereo.com?
Free Shipping on Orders over $100

You don't have to pay for shipping on all orders over $100. Applies to the continental US only. Orders under $100 are a flat rate, $9.95.

Free Returns

You can return any item within 30 of receipt. Continental US only. No re-stocking fees. We email you a label. You drop it off at a FedEx location. Items must be un-installed and in the original packaging.

60 Day Satisfaction Guarantee

We sell the best products in the industry. If you decide within 60 days that you don't like the way your boat sounds, let us know. We will work with you to exchange your products for something else. We want you to be happy with the way your boat sounds, we believe in the products we sell, and we are confident that we can find a solution that will put a smile on your face.

Online Authorized

We are online authorized to sell the best marine audio products in the world. When you buy from MarineStereo.com, not only do we stand behind the product, but so does the manufacturer. We are online authorized for JL Audio, Wet Sounds, Kicker, Rockford Fosgate, Fusion, Memphis, Stinger, Hertz, and more. Your warranty is valid.