Best Marine Subwoofers
In most cases, the best marine subwoofer for your boat is the biggest subwoofers that will fit in the hull, that matches your speakers, and that you can properly power.
Bigger Is Better
Go with the Same Brand as Your Speakers
Choose the Same Series as Speakers Unless You Need More Power
Make Sure you have Enough Power the Subwoofer(s)
In a marine environment, your speakers and your amplifier(s) are the core of your system.
Keep In Mind...
We definitely recommend adding a subwoofer to your boat, especially if you have 6.5" speakers. Some 7.7" and larger speakers can give you enough low frequency that you might be able to get by without a subwoofer, but a subwoofer will do a better job of producing bass frequencies than any full-range speakers.
However, because of the open-air environment of a boat, you don't get the cabin boost and the same output as you get in a car. There's no trunk. You don't have a rear cargo area like a hatchback or an SUV with all of the surfaces the keep the sound waves trapped. Instead, it is wide open and those low-frequency sound waves escape through the air. Three 12" subwoofers on a boat are not the same as three, 12" subwoofers in an SUV or in your trunk.
You can still get good bass on your boat, but it is just different. It is bass you can hear and bass you might feel through your feet or through your butt, but it is hard to get that bass that you feel in your chest.
Best Overall Marine Subwoofers
JL Audio M7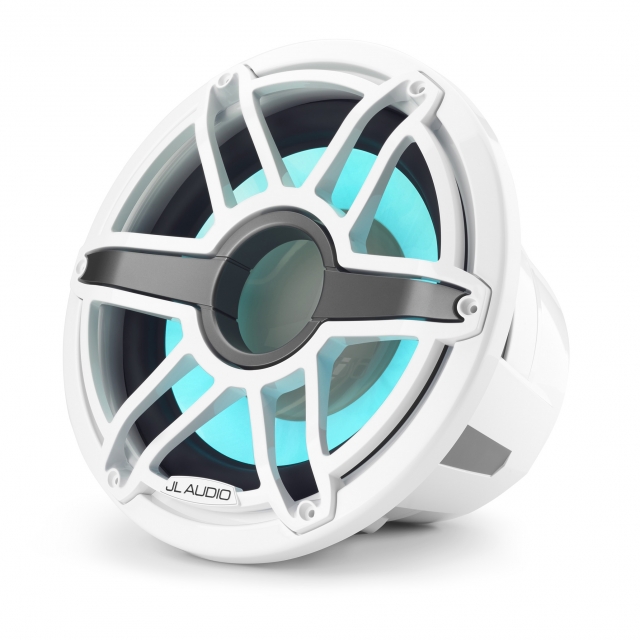 When you think subwoofers, you think JL Audio. JL Audio marine is synonymous with quality so it is no surprise that the JL Audio M7 series subwoofers are our choice for the best overall marine subwoofer. These subwoofers can handle 600 watts RMS and are designed for free air or infinite-baffle installations. JL Audio subwoofers just hit and sound different. A 600 watt subwoofer from JL is not the same as 600 watt subwoofer from everyone else.
Best High End Marine Subwoofer Value
Rockford Fosgate M2
If you are looking for a higher end marine subwoofer and you are looking for value, the Rockford Fosgate M2 is our choice. The M2 subwoofers are available in both 10" and 12" sizes and they can handle 400 watts RMS. These subwoofers handle more power than the JL Audio M6 and virtually all other marine subwoofers, yet they are priced competitively. The 10" JL Audio M6 subwoofer costs more money, handles less power, and is only available with a 4 ohm voice coil. These M2 subwoofers come with dual 4 ohm or dual 2 ohm voice coils and they feature Rockford's Versaswitch technology which allows you to quickly and easily set the impedance for each subwoofer. The M2 subwoofers are available in either white or black and each subwoofer comes with both the sport, 6-spoke grille as well as the stainless steel mesh grille. The M2 subwoofers all come with Rockford's Color Optix RGB LEDs built-in for a subwoofer that looks as good as it sounds.
Best Overall Subwoofer Value
Rockford Fosgate M1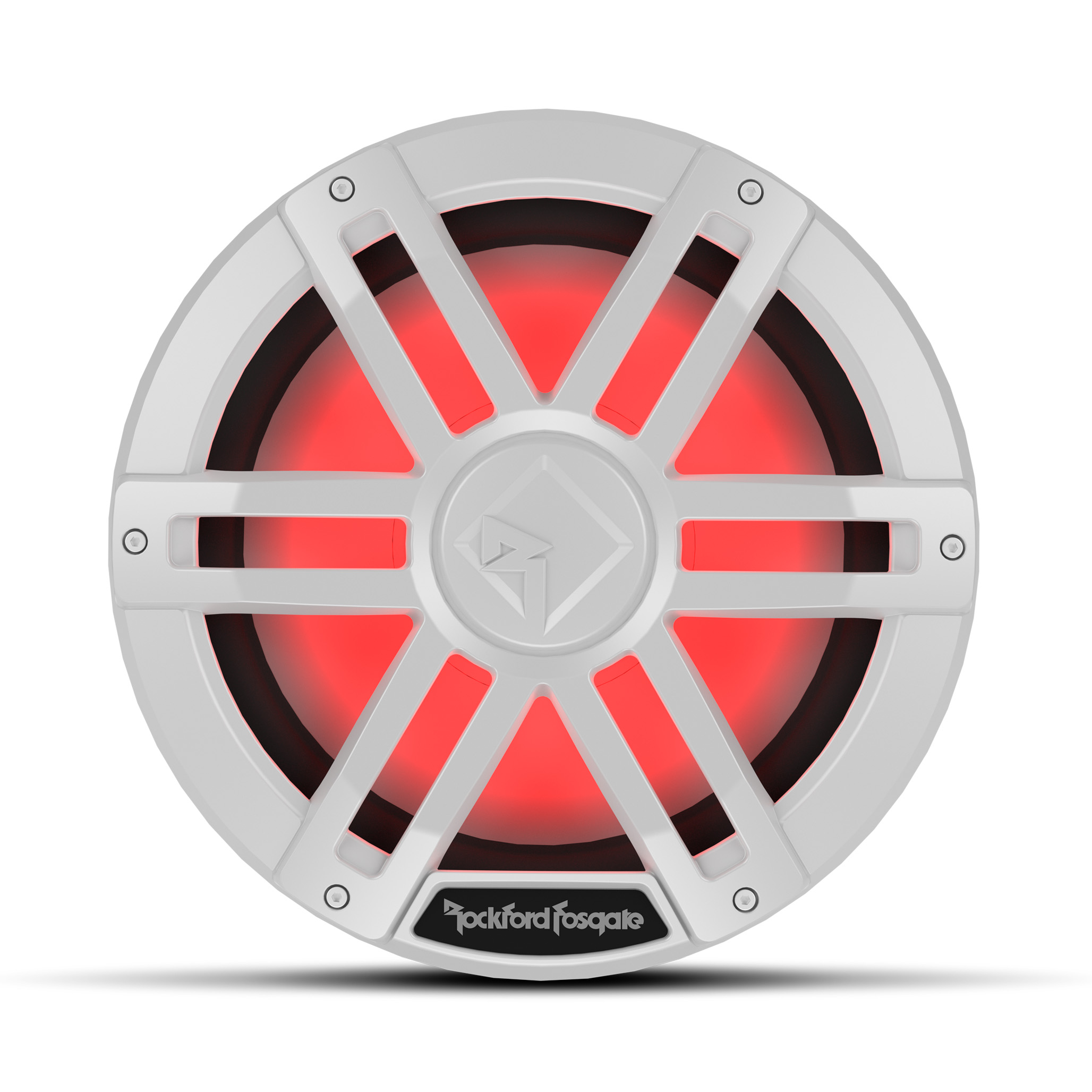 While not as good as the M2, the Rockford Fosgate M1 marine subwoofers are the best overall value. If you need to add some bass to your boat, the Rockford Fosgate M1 subwoofers outperform virtually all similarly priced options and even many more expensive options. They offer the same power handling as the Wet Sounds REVO 10, cost less money, they come with a grille included, and the M1 has RGB LEDs built-in. When you compare the 10" M1 subwoofer to the JL Audio M3, the M1 handles over 100 watts more power, it costs appriximately 100 less, it comes standard with RGB LEDs, and it is available in dual 2-ohm or dual 4-ohm voice coils for installation flexibility and to ensure you can get maximum power out of your amplifier at 2 ohms. If you compare it to the Kicker subwoofers, the M1 handles more power, comes with RGB LEDs, includes a grille, and costs about the same amount of money. The numbers don't lie. Yes, you can find better performing subwoofers, but if you are looking in this price range, there's no better value.
Best Wet Sounds Subwoofer
REVO 10
If you have a Wet Sounds sytem and you are looking to add subwoofers, we like the REVO 10 free-air marine subs. These subwoofers are available in both white and titanium and they come with either single 2-ohm or single 4-ohm voice coils. These subwoofers handle 300 watts RMS which is more than the JL Audio M3 and the Kicker KM series subs. The subwoofers do not come with grilles included, but you can also ensure that you match your speaker grilles. Wet Sounds offers 8 different grille options for the REVO speakers and there are matching grille options for each of them. If you have white speakers, you can go with either color subwoofer. If you have silver, black, or gunmetal speakers, go with the black/titanium subwoofer.
Best Kicker Marine Subwoofer
REVO 10
If you have a Kicker stereo system, we recommend using Kicker marine subwoofers. Yes, there might be other options that handle more power, but in an open air marine environment, you are never going to have crazy amounts of bass. For the overall look of your boat, get the matching Kicker subwoofers and matching Kicker LED grilles. Don't make it more complicated than it needs to be.
Best Marine Subwoofer Loaded Enclosures
A true, marine-grade loaded enclosure is the easiest solution to add a subwoofer if you don't already have one becuase you can set it and forget it. Kicker has marine grade bass tubes. Wet Sounds has several powered options. The last option is to go with an automotive enclosure. You can save some significant money by opting for a car enclosure if you can keep your subwoofer enclosure dry and out of the sun. You can do that by installing the in the storage area under your seating, or you you can often times put them down by the feet of the driver. It is going to depend on how low your boat sits in the water, whether or not the interior of your boat gets very wet, and how you store your boat. Some people's interior stays dry for the most part. If this is the case, you can buy a car enclosure, throw it in the boat, and quickly connect it. When you are done for the day, you pull the subwoofer out. If you don't want to deal with cutting holes, this can be a cost effective way of getting the job done. Again, it all depends on how you use your boat and how you store it.
Accessories
Subwoofer Grilles
Half of the marine subwoofers come with grilles, half do not. We recommend adding subwoofer grilles if the subwoofers you purchase do not come with them. If you don't have a grill, it is a matter of time before someone loses their balance and puts a foot through your subwoofer.
LED Rings
In addition to LEDs that are available in the subwoofer grilles, you can also add LED rings around the subwoofer itself. These fit between the hull of the boat and the subwoofer itself and give you additional LED lighting. You can wire the rings to the same controller as the speakers or run two separate controllers so that the speakers and the rings flash and change colors at different times and rates.
Summary
The best marine subwoofer for your boat is the one that fits, the one that matches your speakers, and the one that matched your amplifier's power output. If you are a bass head, you can put some serious power to a high-end woofer and get good output. Just remember, you won't get the same output in your boat that your will in your car or truck.