Includes:
4 JL Audio M3 6.5" Speakers (Select Grille)
1 JL Audio 4 Ch. Amp
1 4AWG 7m Amplifier Installation Kit (Power Only)
Overview
Our JL Audio M3 6.5" 4 speaker stereo package includes 4 speakers, a JL Audio marine amplifier, and a 4 AWG marine amp kit. This package includes the basics you need to either build or upgrade your marine stereo system with high quality sound that will play crystal clear and over the engine, wind, and water noise when you are out on your boat. You can select between 5 different speaker grille/LED options. The M3 speakers come in white sport, white sport with RGB LEDs, gunmetal sport, gunemtal sport with RGB LEDs, and classic white speakers grilles. For the amplifier, we offer three amplifier selections. a 280 watt 4 channel (MX280/4), a 500 watt 4 channel (MX500/4), and a 400 watt 4 channel (M400/4). Finally, we include a 7m, Stinger 4 AWG marine amp power kit to deliver power from your battery to your amplifier.
Speakers
The JL Audio M3, 6.5" speakers are the "go-to" in our opinion among ALL marine 6.5" speakers. JL is known for making high-quality, great sounding speakers that will withstand the elements for years while delivering unrivaled sound quality for the price. The 6.5" M3 speakers have a .75", specially-treated silk dome tweeter that gives you smooth, warm, and balanced output without sounding harsh or shrill. The mid-range response you get from the M3 speakers is just simply better than any other marine speaker at the price point. The 6.5" M3 speakers can handle 60 watts of RMS power and they match up perfectly with all three amplifier options. If selecting the M400/4 or the MX500/4, just make sure you don't have the gain maxed out to ensure you don't overpower and blow the speakers. When looking at the performance, the appearance, and the price point, the 6.5" JL Audio M3 speakers are probably our favorite among ALL 6.5" speakers.
Both the white sport and gunmetal sport grille options are available with RGB LEDs. The leds are located behind the tweeter and integrated into the speaker grille. The LEDs shine backwards onto the cone to provide a colorful glow and enhance the appearance of your boat and your speakers. You can wire the RGB LEDs to one of seven different colors, or you can purchase an RGB LED controller that will allow you to select between numerous colors and allow you to switch between several coloring changing modes.
Amplifier
We offer three different amplifier options in this package. Two of the amps are compact, mini amplifiers from JL's MX series, the other is a full-sized, 400 watt, 4 channel amplifier from the M-series. The best amplifier among these three is the M-series, 400 watt, 4 channel amp. The amplifier puts out 75 watts of RMS power, that power is super clean, and the thermal management on the JL Audio M-series amps is among the best in the world. The M-Series amplifiers use JL's NexD switching tehcnology to deliver maximum power with minimum current draw.
If you are looking to save some money or you don't have the budget for the M400/4, the MX-series amplifiers deliver the power you expect from JL Audio in a super-small, compact chassis. There are two options, a 280-watt, 4 channel and a 500 watt, 4 channel. The MX280/4 delivers 50 watts of RMS power while the MX500/4 deliver 75 watts of of RMS power. The difference between them is the size and the power output.
Although the MX500/4 is a, "500 watt amp" and the M400/4 is a, "400 watt amp", the M400/4 is going to sound better and outperform the MX500/4. At 4 ohms, the power output is the same at 75W x 4, but the signal processing and thermal mangement on the M-series amp is just better. If you take your boat out on hot, summer days and you like to listen to your music loud, the M400/4 is going to be much more reliable and you will not have to worry about your amplifier shutting down to protect itself due to it getting too hot.
Amp Kit
To get the power from your battery to your amplifier, we include a Stinger 4AWG 7m marine amplifier wiring kit. This kit comes with roughly 23 feet of power and ground wire. The power and ground wire are molded together like what you typically find with speaker wire, allowing you to make a single run from your amplifier to your battery. You don't have to worry about taping wires together, twisted wires or any of the other headaches that sometimes come with pulling multiple, larger gauge wire. The power and ground wires are red and yellow to follow the standard, marine colors for power and ground on 12v systems. The kit includes a weather resitant fuse holder and an 80 amp fuse. If you choose to use a circuit breaker, that is sold separately.
Other Things You Might Need (Shown On This Page, Past the Product Specs)
RCA Cables
RGB or Marine Speaker Wire, Depending on Speaker Selection
Marine Circuit Breaker
A Head Unit or Bluetooth Controller
An RGB LED Controller (If RGB LED Model Selected)
JL Audio M3-650X-S-Gw 6.5" Marine Speakers Pair Gloss White Sport Grilles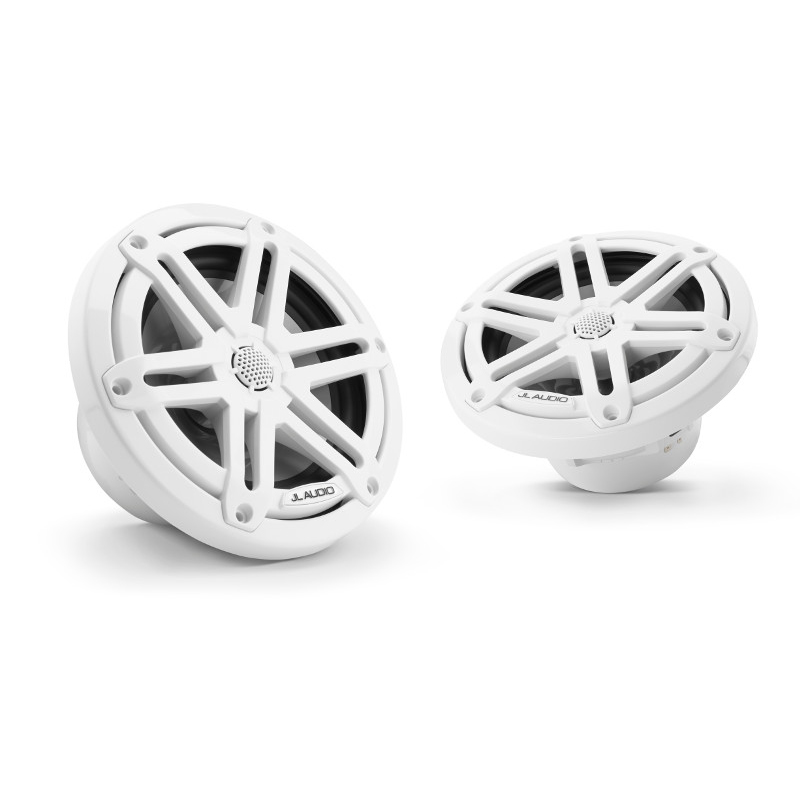 RMS Power Handling
60 Watts
Peak Power Handling
225 Watts
Recommended Amplifier Power
20-125 W/Ch.
Frequency Response
55Hz - 25 kHz +/- 3db
Sensitivity
89.5db @ 1W/1m
Mounting Depth
2.74" (69.5mm)
Mounting Hole Dia.
5.00-5.25" (127-133mm)
Bolt Circle Diameter
6.125" (155.5mm)
Frame Outer Dia.
6.90" (175mm)
JL Audio M400/4 400 Watt 4 Channel Marine Amplifier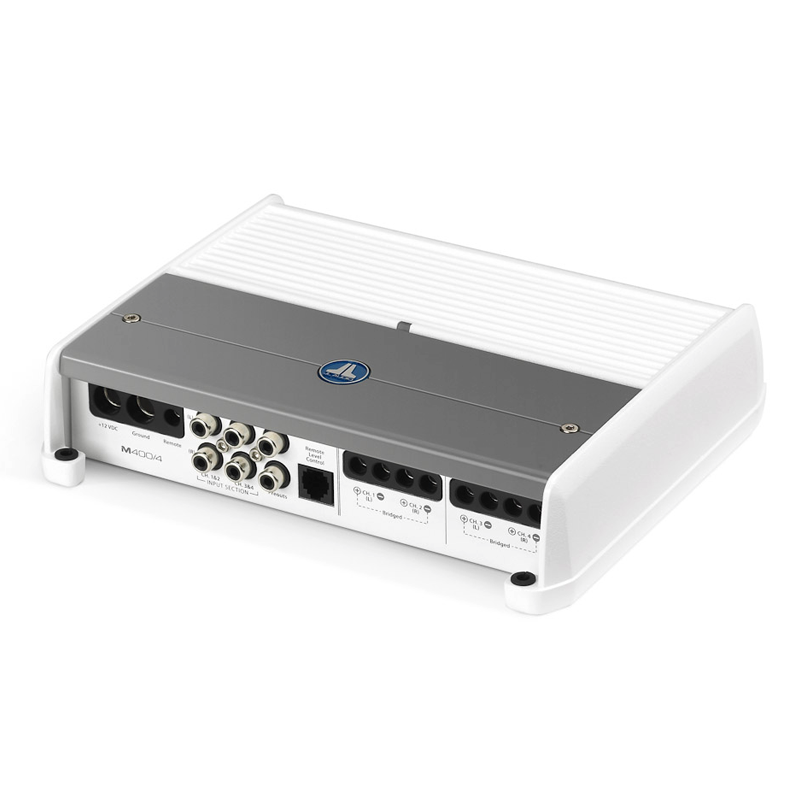 Rated Power @ 4 Ohm (Full Range)
75W x 4
Rated Power @ 2 Ohm (Full Range)
100W x 4
Rated Power @ 4 Ohm (Bridged)
200W x 2
Frequency Response
12Hz - 22kHz
Input Sensitivity
100mV - 4V
Filters
OFF, High-Pass, Low-Pass
THD+N @Rated Power
<1.0% @ 2 Ohms
Selectable Input Mode
Yes
Pass-Through Pre-Amp Output
Yes
Recommended Power Wire
4 AWG
Remove Level Control
Yes (HD-RLC)
Why Should You Buy from MarineStereo.com?
Free Shipping on Orders over $100

You don't have to pay for shipping on all orders over $100. Applies to the continental US only. Orders under $100 are a flat rate, $9.95.

Free Returns

You can return any item within 30 of receipt. Continental US only. No re-stocking fees. We email you a label. You drop it off at a FedEx location. Items must be un-installed and in the original packaging.

60 Day Satisfaction Guarantee

We sell the best products in the industry. If you decide within 60 days that you don't like the way your boat sounds, let us know. We will work with you to exchange your products for something else. We want you to be happy with the way your boat sounds, we believe in the products we sell, and we are confident that we can find a solution that will put a smile on your face.

Online Authorized

We are online authorized to sell the best marine audio products in the world. When you buy from MarineStereo.com, not only do we stand behind the product, but so does the manufacturer. We are online authorized for JL Audio, Wet Sounds, Kicker, Rockford Fosgate, Fusion, Memphis, Stinger, Hertz, and more. Your warranty is valid.