Includes:
4 Wet Sounds REVO 8 8" Marine Speakers (Select Grille)
1 Wet Sounds 4 Ch. Amp
1 4AWG 7m Amplifier Installation Kit (Power Only)
Overview
Our Wet Sounds REVO 8 8" 4 speaker stereo package includes 4 REVO 8 speakers, a Wet Sounds marine amplifier, and a 4 AWG marine amp kit. This package includes the basics you need to either build or upgrade your marine stereo system with high quality sound that will play as loud and as crystal clear as you'd like over the engine, wind, and water noise when you are out on your boat. You can select between 5 different speaker grille options, all of which come with RGB LEDs built-in. The REVO 8 speakers come in black, white, or silver grilles with both open or closed style options available for both black and white. For the amplifier, we offer two amplifier selections. The Wet Sounds SYN-DX 4 is an 800 watt Class-D 4 channel amp, and the SDX4 is one of the most powerful and efficient 4 channel marine grade amps in the world. Finally, we include a 7m, Stinger 4 AWG marine amp power kit to deliver power from your battery to your amplifier.
Speakers
The Wet Sounds REVO 8, 8" speakers are known for delivering maximum volume, clarity, and durability. Wet Sounds only does marine grade audio and they specifically design their products for this environment. The REVO 8 speakers are designed to play loud and cut through the ambient noise from your engine, the wind, and the water. The 8" REVO 8 speakers have a 1.00" titanium dome tweeter that will play bright, crisp, clean, and loud. Wet Sounds has designed these speakers to cut through the ambient noise and ensures that the output of the REVO 8 is in the frequencies that you can actually hear when using your boat. There is no sense optmizing the mid-range output of a speaker when those frequencies are cancelled out by the rumbling of the engine and the wind when travelling at 15+ mph. You might hear these frequencies when the engine is off and the boat is docked, but when out on the water using your boat, you want your speakers loud, you want maximum clarity, and you want accuracy. The 8" REVO 8 speakers can handle 125 watts of RMS power. In addition to the 1.00" titanium dome tweeter, the cone surround and spider are made from Santoprene rubber which remains stable and strong regardless of whether you are in Alaska in the winter or out in Lake Havasu in the summer when it's 128 degrees out. This not only makes the REVO 8 extremely durable but also ensures linearity and accuracy with your speaker output.
All of the Wet Sounds REVO 8 speakers come with RGB LEDs. The leds are located behind the tweeter and integrated into the speaker grille. The LEDs shine backwards onto the cone to provide a colorful glow and enhance the appearance of your boat and your speakers. You can wire the RGB LEDs to one of seven different colors, or you can purchase an RGB LED controller that will allow you to select between numerous colors and allow you to switch between several coloring changing modes.
Amplifiers
We offer two different amplifier options in this package. All of the Wet Sounds amplifiers use Class-D circuitry for maximum efficiency. Both the SYN-DX 4 and the Sinister SDX4 are full-sized marine grade amps that will manage the heat and play at full volume, all day long when running at 4 ohms. The SDX4 uses Wet Sounds MAXED power supply for maximum efficiency and minimal current draw. This helps it deliver the power it delivers without overheating.
The Wet Sounds SYN-DX 4 provides the output that the REVO 8 speakers want. Although the speakers are rated at 150 watts RMS, the SYN-DX 4 will provide plenty of power for the speakers while still being able to manage the heat. Just because the speakers can handle 150 watts RMS doesn't mean you have to drive them at 150 watts. Think of it like a transmission in a vehicle. If the transmission can handle 600 HP, it doesn't mean you have to build an engine that puts out 600 HP. If youare engine puts out 500 HP, that transmission is still going to be the right one and perform. Now, if your engine only had 300 HP, you might want to maybe look at other options for a better fit, but this is a good analogy explaining the RMS rating of both the speakers and the amplifier. The SYN-DX 4 has both high and low pass filters and 12dB/octave crossovers. I
The Wet Sounds Sinister SDX4 is the top of the line, 4 channel amp from Wet Sounds. This amp actually has the highest output among any 4 channel marine amplifier that we carry. As we stated above, the SDX4 uses the MAXED power supply and Class-D circuitry to deliver maximum power with minimal current draw. Because of this, the Sinister amplifiers are able to deliver unbelievable amounts of power. Although rated at 185 watts per channel at 4 ohms, this gives you some head room to ensure you can give the REVO 8 speakers all of the power they want without driving the amp at 100%. With the SYN-DX 4, you will have the gains on the turned up higher than you would on the SDX 4. The SDX4 is going to manage heat better and will not have to work has hard as the SYN-DX4 would for the same output. If you play your stereo all day long, on super hot days, you might want to consider the SDX4. Think of it as though you are towing something uphill. With the SYN-DX 4, you have the truck floored going up the hill. With the Sinister SDX4, you have your foot into it, but the truck is just cruisin'.
Amp Kit
To get the power from your battery to your amplifier, we include a Stinger 4AWG 7m marine amplifier wiring kit. This kit comes with roughly 23 feet of power and ground wire. The power and ground wire are molded together like what you typically find with speaker wire, allowing you to make a single run from your amplifier to your battery. You don't have to worry about taping wires together, twisted wires or any of the other headaches that sometimes come with pulling multiple, larger gauge wire. The power and ground wires are red and yellow to follow the standard, marine colors for power and ground on 12v systems. The kit includes a weather resitant fuse holder and an 80 amp fuse. If you choose to use a circuit breaker, that is sold separately.
Other Things You Might Need (Shown On This Page, Past the Product Specs)
RCA Cables
RGB Speaker Wire
An RGB LED Controller
Marine Circuit Breaker
A Head Unit or Bluetooth Controller
Wet Sounds REVO 8 8" Coaxial Speakers Black XS Grille Stainless Overlay Pair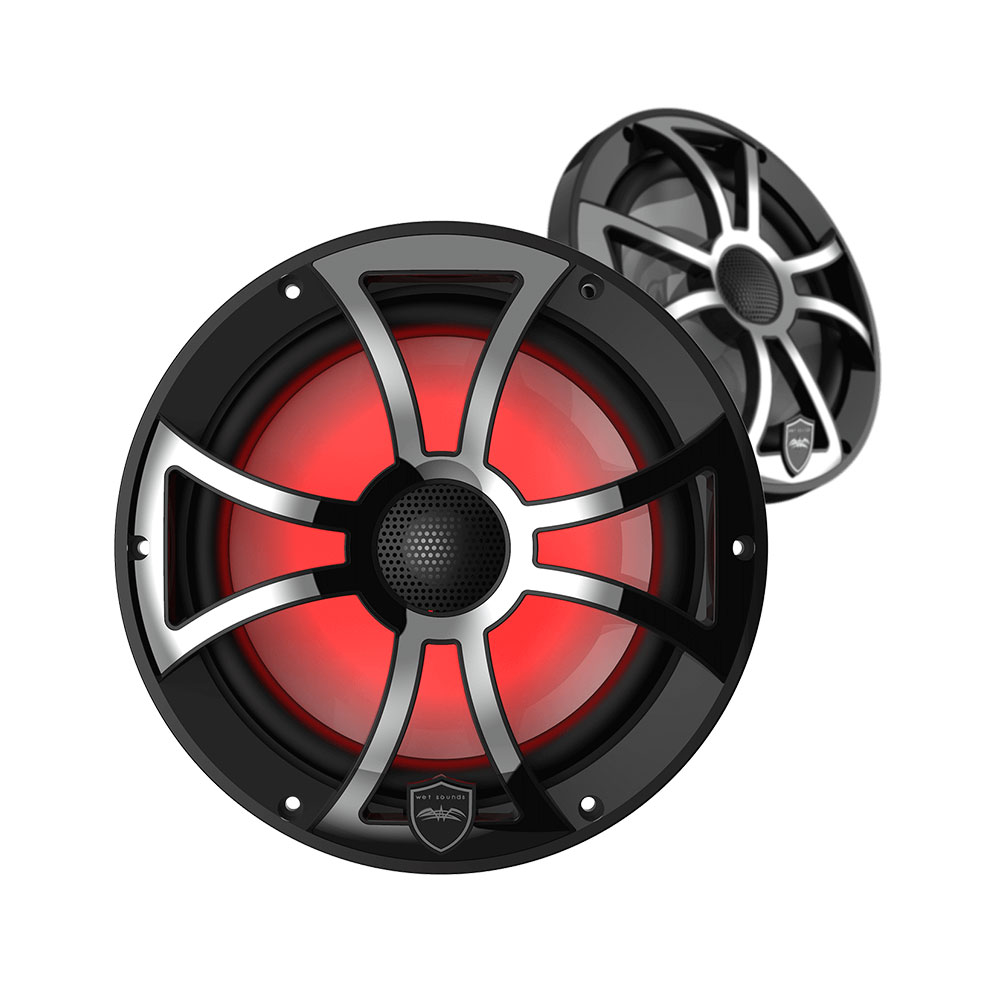 RMS Power Handling
150 Watts
Peak Power Handling
300 Watts
Frequency Response
35Hz - 22kHz
Sensitivity
92 db @ 1w/1m
Mounting Depth
4.0" (102mm)
Mounting Hole Dia.
7.1" (180mm)
Diamater with Grille
8.89" (225.80mm)
Wet Sounds SYN-DX 4 800 Watt 4 Channel Marine Amp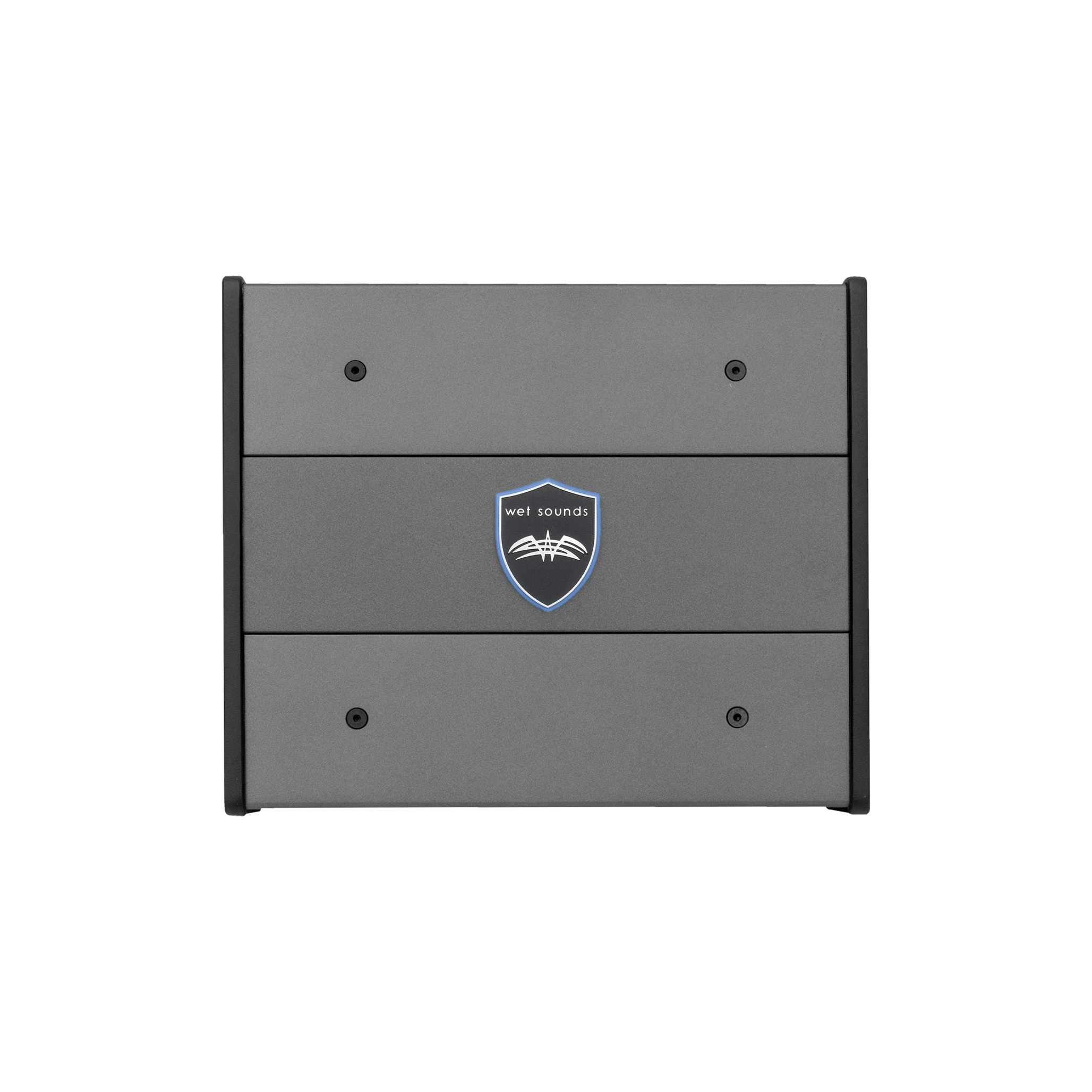 Rated Power @ 4 Ohm
125W x 4
Rated Power @ 2 Ohm
200W x 4
Rated Power @ 4 Ohm Bridged
400W x 2
Frequency Response
20 Hz - 20 kHz
Input Sensitivity
Low Level .2V - 6.0V
Filters
High and Low Pass
Recommended Power Wire
4 AWG
Wet Sounds Sinister-SDX4 1360 Watt 4 Ch. Amp
Rated Power @ 4 Ohm
185W x 4 @ 60A
Rated Power @ 2 Ohm
340W x 4 @ 123A
Rated Power @ 4 Ohm (Bridged)
685W x 2 @ 122A
Frequency Response
8 Hz - 35 kHz
Input Sensitivity
Low Level .2V - 6.1V
Filters
High and Low Pass
Recommended Power Wire
4 AWG
Stinger Marine 4ga Amp Power Kit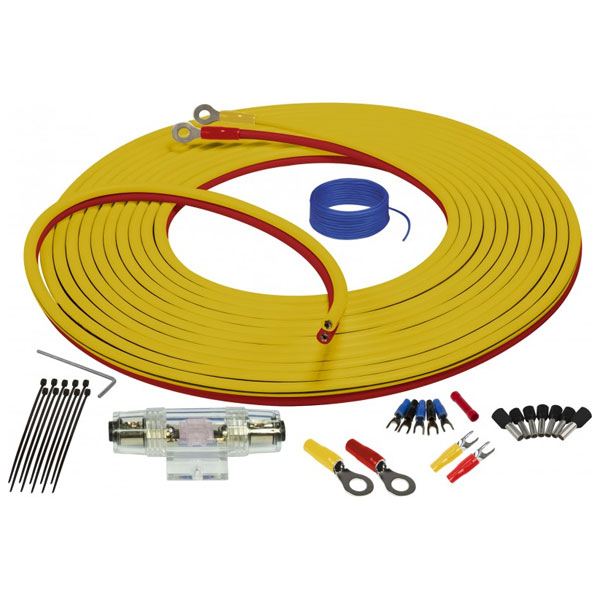 Power/Ground Wire Length
22.96 ft (7m)
Remote Wire AWG/Legnt
22.96 ft(7m)/18ga
Fuse Holder
Water Resistant MIDI/AFS
Included Fuse Rating
80A MIDI/AFS
Ring Terminals Included
2 4ga Power (Red & Yellow)
Power/Ground Wire Ferrules
2 Pcs (4 ga)
Speaker Wire Ferrules
4pcs (16ga)
Remote Wire Ferrules
1pc (18ga)
Spade Terminals
5 pcs 16-22ga
Fork Terminals
2 pcs (8 ga)
Butt Connectors
1 pcs (22-18ga)
Cable Ties
20 pcs, 7" Long
Why Should You Buy from MarineStereo.com?
Free Shipping on Orders over $100

You don't have to pay for shipping on all orders over $100. Applies to the continental US only. Orders under $100 are a flat rate, $9.95.

Free Returns

You can return any item within 30 of receipt. Continental US only. No re-stocking fees. We email you a label. You drop it off at a FedEx location. Items must be un-installed and in the original packaging.

60 Day Satisfaction Guarantee

We sell the best products in the industry. If you decide within 60 days that you don't like the way your boat sounds, let us know. We will work with you to exchange your products for something else. We want you to be happy with the way your boat sounds, we believe in the products we sell, and we are confident that we can find a solution that will put a smile on your face.

Online Authorized

We are online authorized to sell the best marine audio products in the world. When you buy from MarineStereo.com, not only do we stand behind the product, but so does the manufacturer. We are online authorized for JL Audio, Wet Sounds, Kicker, Rockford Fosgate, Fusion, Memphis, Stinger, Hertz, and more. Your warranty is valid.