What is Included?
This package includes the following:
(6) 6.5" Wet Sounds REVO 6 Speakers
(1) 10" Wet Sounds REVO 10 Subwoofer
Option to add a 2nd 10" subwoofer
Wet Sounds marine amplifier setup
(1) 4 AWG marine amp kit per amplifier
The Wet Sounds REVO 6 speakers are designed to play loud and clear. A boat is usually a noisy environment with noise coming from the engine, wind, and water. The Wet Sounds REVO 6 have a 1" titanium dome tweeter to cut through all that noise and ensure that you hear your music crisp and clear. Often times the speaker locations are down low, away from your ear level. When you combine that with the ambient noise, you want to make sure you have something that is going to get loud. In addition to getting loud, the REVO 6 also have RGB LEDs built in You can wire the speakers to a static color using RGB speaker wire, or you can purchase an RGB LED controller and have a full on disco party. The REVO 10 subwoofer that comes with this package is designed for free-air applications. You can install the subwoofer directly to the hull of the boat. You don't need to worry about the recommended air space as their isn't one. Wet Sounds focuses on marine audio as their name implies. The HTX6 amplifier that is included with this package features a fully sealed design to keep any and all moisture out of the amplifier. The amp has super efficient class D circuitry provides plenty of power for the REVO 6 speakers and the REVO 10" subwoofer.
How do I wire the speakers?
The HTX6, 6 channel amplifier has 6 total speaker outputs. However, the 5th and 6th channels will be bridge to power the subwoofer. In order to wire 6 speakers to 4 outputs, one of the outputs will have 4 speakers wired to it. These speakers will run at 2 ohms instead of 4. You can either adjust the gain on the amplifier or use the fader on your head unit to equal out any volume difference you might hear. Either way, it is still going to be able to play as loud, if not louder than your ears can handle.
How do I wire the subwoofer?
You will bridge use the 5th and 6th channel on the HTX6 amplifier to power the subwoofer.
How do I wire the LEDs in the speakers?
In order to wire the LEDs, you will need 6 conductor speaker wire. It is known by several different names, multi-function speaker wire, 6 conductor speaker wire, RGB Speaker wire, etc. The speaker wire has 2 wires to power the speakers and 4 additional wires to power the LEDs, one red, one blue, one green, and one ground. If you only want your lights to light up 1 color and they just stay that color the entire time, simply connect the red wire for red, the blue wire for blue, or the green wire for green and then the ground wire. If you want more color options (up to 20), or the ability to change between 19 color changing and flashing modes, you can add an RGB LED controller and you can have a full on disco party on your boat.
Is a subwoofer grille included?
Yes, this package includes the REVO 10" subwoofer grille to match the speakers. However, the subwoofer grille does not include LEDs like the speakers do.
Is the amp wiring kit included?
Yes. We include 1, 4 AWG marine amp wiring kit per amplifier. If you choose a single amplifier option, you get one amp kit. If your amplifier selection includes 2 amps, you get 2 amp wiring kits. Each wiring kit is uses 4 AWG marine grade OFC copper and is 7m long.
What about the RCAs?
We do not include the RCA cables. They must be purchased separately.
Is speaker wire included?
Speaker wire is not included. We don't know the exact length you might need. If we include it, we have to make sure we err on the side of including too much as opposed to too little.
The Bottom Line
If you want it loud and you want RGB LED lights in your speakers, the Wet Sounds REVO 6 package is perfect. The REVO 10 subwoofer is going to fill out the bottom end of your music to give you true, full-range sound. The Wet Sounds HTX6 amp puts out plenty of power for both the speakers and the amplifier and is backed by a 2 year warranty. If you want it loud, you want it reliable, and you want lights, this package has it all.
Why You Should Buy from MarineStereo.com
60 Day Guarantee
If you purchase this package and you are not happy with it within 60 days from the date of purchase, you can exchange it for something else.
Customer support
When you purchase from MarineStereo.com we will provide you with lifetime technical support. If you need help with wiring, installation, or product setup, our staff will walk you through the process to ensure that you get your product installed and working properly.
Risk-Free Shopping with Free Shipping & Free Returns
Since this item is over $100, it qualifies for free shipping within the continental United States. If you decide you want to return the items within 14 days of receipt and you are in the continental US, we will send you a return label to send the product back to us, free of charge. Product must be new, uninstalled and in the original packaging to qualify for free-returns.
Hassle Free Shopping
Our stereo packages offer hassle free shipping. We have taken the time to select the best components from the best manufacturers to ensure that the speakers, subwoofer, and amplifier all work well together. You don't have to try to piecemeal things together only to wonder, "Is this going to sound good?". We have done that work for you and the answer to that question is, "Yes". We have a ton of experience with all of the brands that we carry and we know what make each product and brand a little different than the others.
"We won't sell you anything we wouldn't put in our own boat"
Wet Sounds REVO 6 XS-B-SS 6.5" Coaxial Speakers Black XS Grille Stainless Overlay Pair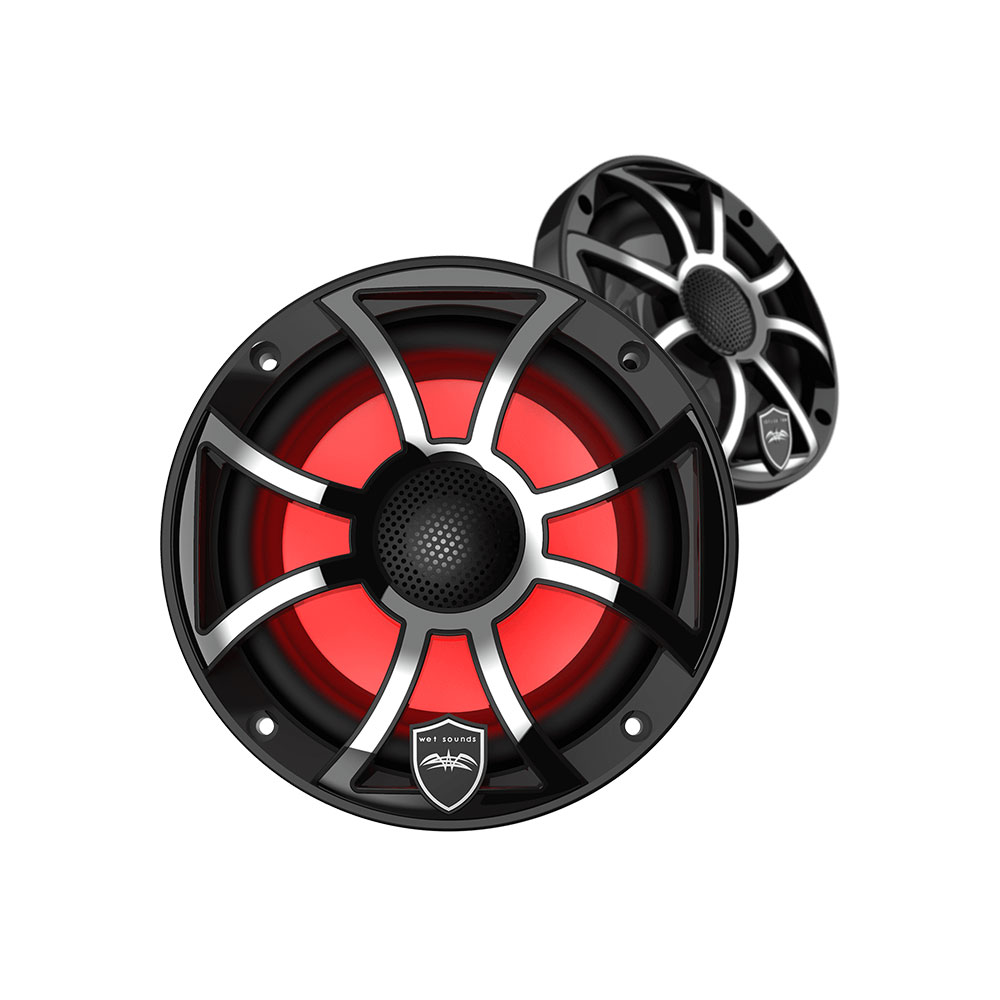 RMS Power Handling
100 Watts
Peak Power Handling
200 Watts
Frequency Response
40Hz - 22kHz
Sensitivity
90 db @ 1w/1m
Mounting Depth
3.3" (84mm)
Mounting Hole Dia.
5.0" (127mm)
Diamater with Grille
6.8" (172.72mm)
Wet Sounds REVO 10" Free Air Subwoofer 4 Ohm Black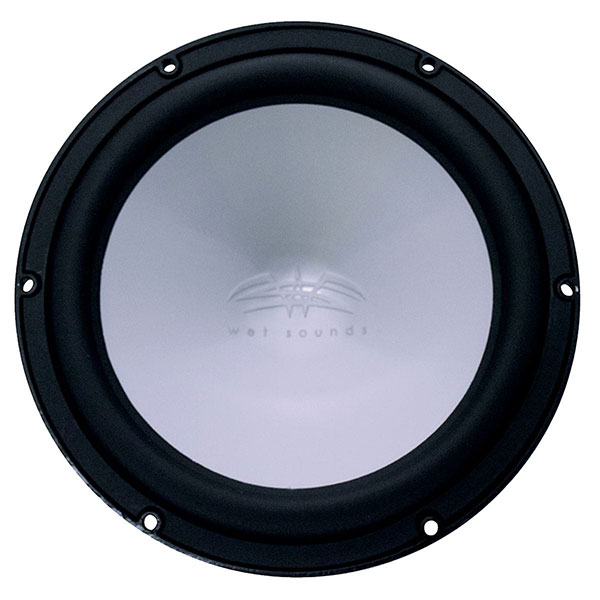 RMS Power Handling
300 Watts
Peak Power Handling
600 Watts
Frequency Response
20 Hz - 500 Hz
Mounting Depth (w/ Grille)
4.62" (117.47mm)
Mounting Hole Diameter
9.45" (240.03mm)
Sealed Enclosure Volume
1.3 cu. ft.
Wet Sounds HTX-6 900 Watt 6 Ch. Amp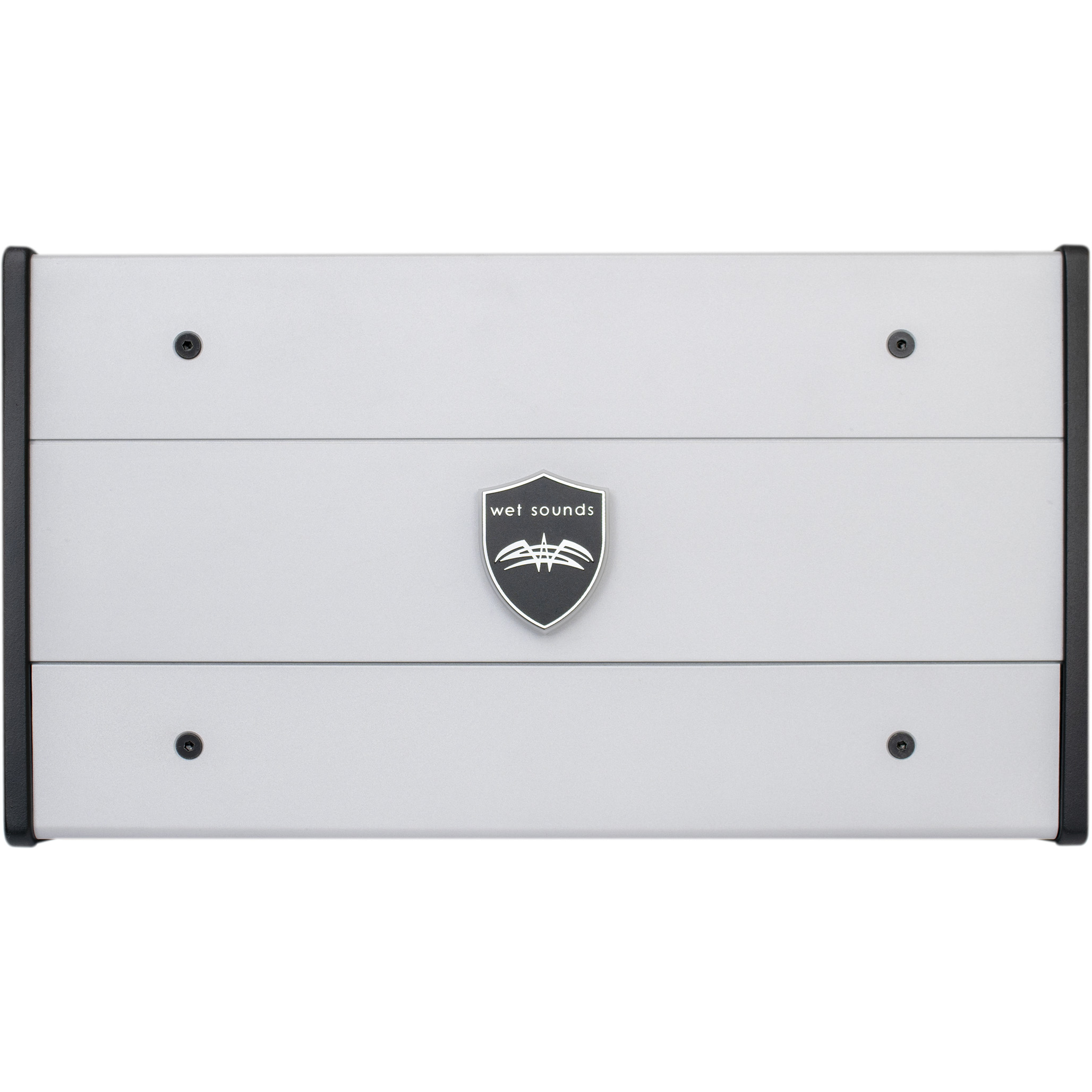 Rated Power @ 4 Ohm
100W x 6
Rated Power @ 2 Ohm
150W x 6
Rated Power @ 4 Ohm (Bridged)
300W x 3
Frequency Response
7 Hz - 33 kHz
Input Sensitivity
Low Level .2V - 6.0V
Filters
High and Low Pass
Recommended Power Wire
4 AWG
Why Should You Buy from MarineStereo.com?
Free Shipping on Orders over $100

You don't have to pay for shipping on all orders over $100. Applies to the continental US only. Orders under $100 are a flat rate, $9.95.

Free Returns

You can return any item within 30 of receipt. Continental US only. No re-stocking fees. We email you a label. You drop it off at a FedEx location. Items must be un-installed and in the original packaging.

60 Day Satisfaction Guarantee

We sell the best products in the industry. If you decide within 60 days that you don't like the way your boat sounds, let us know. We will work with you to exchange your products for something else. We want you to be happy with the way your boat sounds, we believe in the products we sell, and we are confident that we can find a solution that will put a smile on your face.

Online Authorized

We are online authorized to sell the best marine audio products in the world. When you buy from MarineStereo.com, not only do we stand behind the product, but so does the manufacturer. We are online authorized for JL Audio, Wet Sounds, Kicker, Rockford Fosgate, Fusion, Memphis, Stinger, Hertz, and more. Your warranty is valid.