There is loud and then theree's the Rockford marine grade, 8" horn speaker loud. These speakers are make your ears bleed, stupid-loud. The 1" horn tweeter is designed for maximum distance and while these speakers were designed for tower applications, the same speaker can and does work when mounted in the hull of the boat, so why not? If you want to be the loudest guy on the water and you only have space for 6 speakers, this package will do it. Literally and figuratively, with 6 of these facing toward the passengers in your boat, they can definitely get to the point of being obnoxiously, over the top, "stop it and turn it down," loud. If you read that and it makes you smile and chuckle because you don't care and that's what you want, here you go. The 6 speaker configuraiton of this package is perfect for open bow, pontoon, center console, or any other type of boat that has the space. Usually two speakers are up front, two in the middle, and two in the rear for well balanced sound throughout the entire boat.

The Rockford TM400x4ad is one our favorite marine amplifiers. It is super small yet puts out a ton of raw power. It is a perfect match for the Rockford Fosgate Punch speakers and has a constant power circuit that will allow you to hear the difference between 100 watts from this amp, versus 100 watts from any other amp. For speaker wiring, you will need to double up either the front or rear outputs so that you run 4 speakers off of 2 channels. The amplifier can drop down to a 2 ohm load and will still provide plenty of power. The amp has a conformal coated board and stainless steel hardware to withstand the elements. In addition, the amplifier has dual cooling fans to ensure your amp does not shut itself off to prevent it from overheating. For the amount of power you get, the fact that it has a constant power circuit, and the super small footprint, the Rockford TM400x4ad is not only one of the best amps regardless of price, but it is also a tremendous value for the money.

The Rockford Punch marine speakers are probably our favorite if you are looking for something that is going to be bright and loud, but also sound good.
Rockford Fosgate M2 8" Horn Tweeter Marine Speakers w/ RGB LEDs White & Stainless Grilles Pair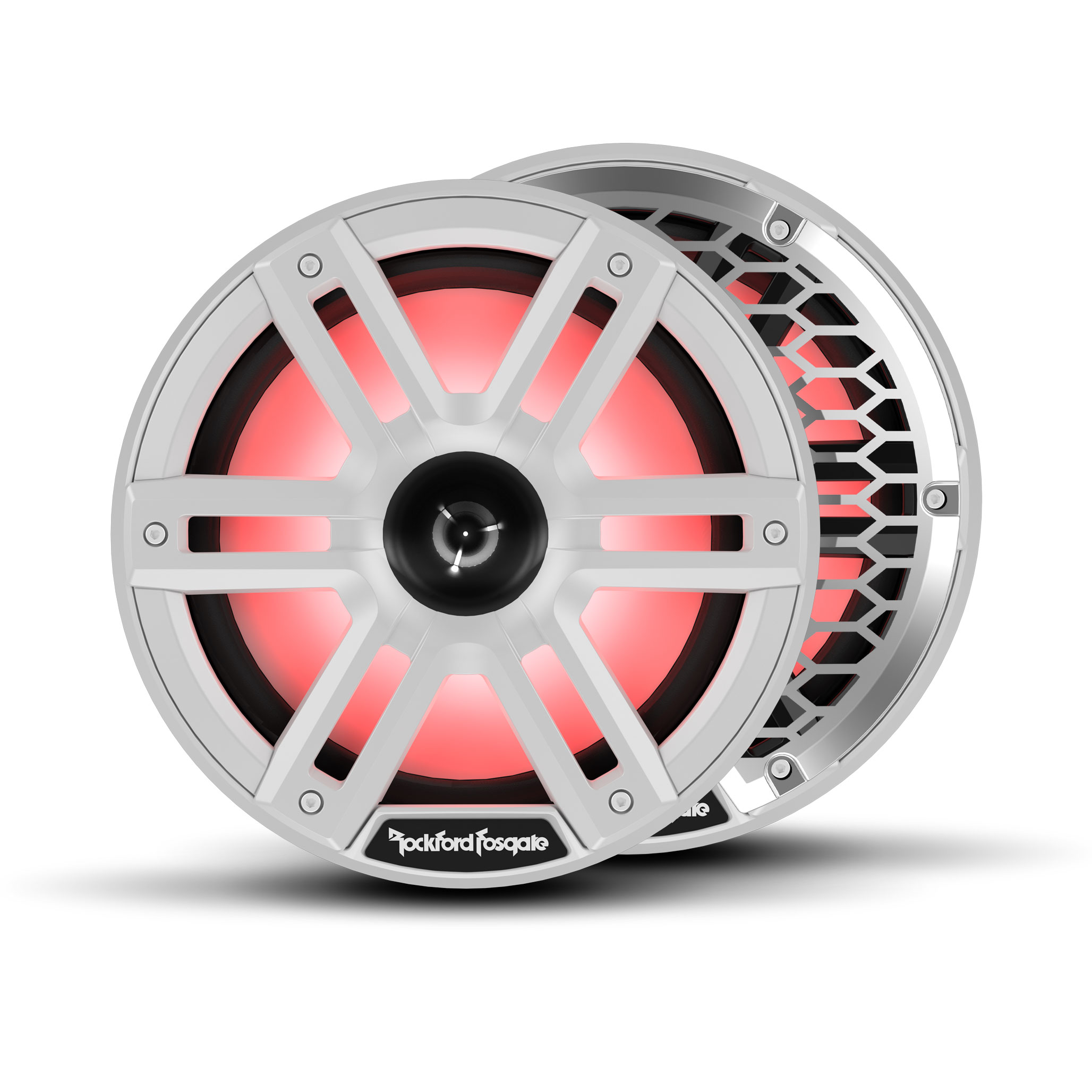 RMS Power Handling
300 Watts
Peak Power Handling
1200 Watts
Frequency Response
20Hz - 25 kHz
Mounting Depth
3.35" (85mm)
Grilles Included
Yes (White & Stainless)
Rockford Fosgate TM400X4AD Power Mini 400 Watt 4 Channel Marine Amplifier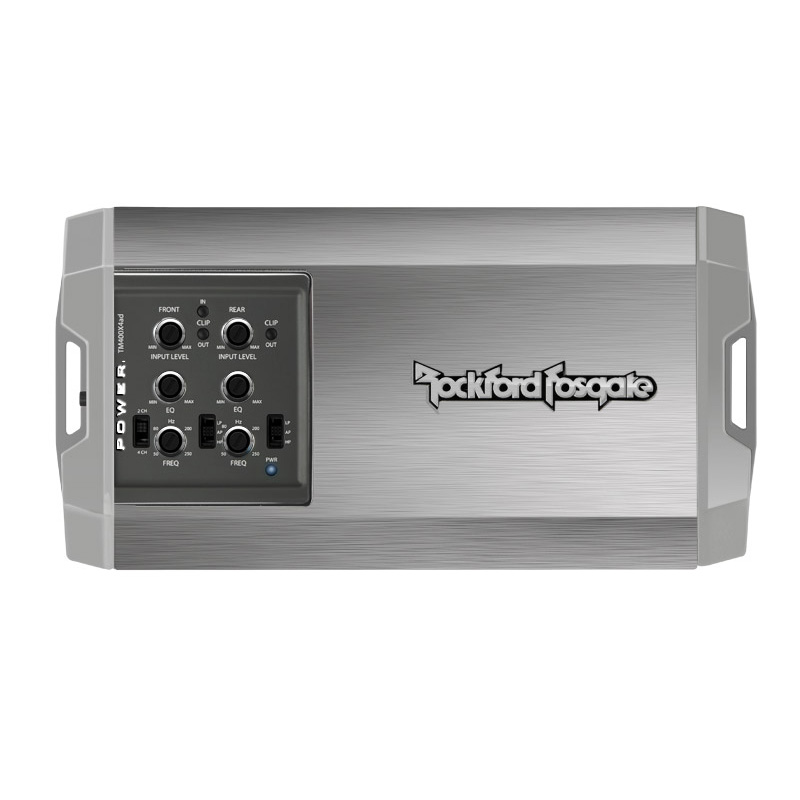 Rated Power @ 4 Ohm
100W x 4
Rated Power @ 2 Ohm
100W x 4
Rated Power (Bridged @ 4 Ohms)
200W x 2
Frequency Response
20Hz - 20kHz
Input Sensitivity
150 mV to 12 V
Filters
High-Pass, Low-Pass, All-Pass
LED Clipping Indicator
Yes
Recommended Power Wire
8 AWG
Why Should You Buy from MarineStereo.com?
Free Shipping on Orders over $100

You don't have to pay for shipping on all orders over $100. Applies to the continental US only. Orders under $100 are a flat rate, $9.95.

Free Returns

You can return any item within 30 of receipt. Continental US only. No re-stocking fees. We email you a label. You drop it off at a FedEx location. Items must be un-installed and in the original packaging.

60 Day Satisfaction Guarantee

We sell the best products in the industry. If you decide within 60 days that you don't like the way your boat sounds, let us know. We will work with you to exchange your products for something else. We want you to be happy with the way your boat sounds, we believe in the products we sell, and we are confident that we can find a solution that will put a smile on your face.

Online Authorized

We are online authorized to sell the best marine audio products in the world. When you buy from MarineStereo.com, not only do we stand behind the product, but so does the manufacturer. We are online authorized for JL Audio, Wet Sounds, Kicker, Rockford Fosgate, Fusion, Memphis, Stinger, Hertz, and more. Your warranty is valid.