Do you need to either add a stereo to your boat or upgrade your existing equipment?
Are you looking for high quality full range sound that is going to have enough bass to fill out the bottom end of your music and you only have room for 1 subwoofer?
Are you searching for a complete solution that is going to sound great, work well together, or you don't have to worry about making sure every component will work together?
Do you want speakers with RGB LEDs?
We have put together our marine stereo packages using the best products available in order to give customers a complete, easy to order solution to meet their audio needs.
This package is perfect for you if...
You have a boat that currently has (4), 6.5" speaker in the hull and either currently has a single 10" subwoofer or has room to add a 10" subwoofer.
Your boat does not currently have a stereo system in it, but you have room for (4) 6.5" speakers and a 10" subwoofer
When out on the water, you want to make sure your music is loud enough and clear enough that you can turn it up over the engine, wind, and water noise.
You want to make sure that your speakers are not going to distort when you turn the volume up loud enough to hear over the ambient noise.
You need a subwoofer to fill out the bottom end of your music to give you true, full range response that is going to sound like your home theater system.
You want RGB LED lights in your speakers because, well, LED accent lighting is cool.
What is Included?
This package includes the following:
(4) 8" Kicker KM84 marine grade speakers with both white and charcoal grilles & RGB LEDs (LED Controller sold separately)
(1) Kicker KMF10, 10" free-air subwoofer
(1) Kicker 10" Marine Subwoofer Grille w/ RGB LEDs
(1) Kicker KXMA 800W 5 channel amplifier
The Kicker marine grade speakers offer unrivaled value compared to other speakers in the same quality tier. These Kicker 8" speakers are priced lower than many other 6.5" speakers and it isn't because they lack performance or they took quality away to hit a price point. The KM84 speakers feature titantium dome tweeters like those that come in the Wet Sounds REVO 8, but these speakers are significantly cheaper while giving you very similar sound quality. Most applications will place a pair of speakers in the front of the boat, a pair in the middle, and a pair in the back. The subwoofer mounts whereever you have enough space, but you don't need to worry about air space because it is designed for free-air applications and can just be installed directly into the hull. The Kicker 8" speakers just sound better than the the 6.5".
Are the 8" speakers worth the extra money?
Yes. If you have the space and you can fit the 8" speakers, go with the 8". The larger speakers have more surface area, they handle more power, and they have better sub and mid-bass response. The 8" will simply play louder and sound better than the 6.5".
How do I wire the speakers?
The speaker wiring in this package is straightforward. Positive on the amp to positive on the speaker and negative on the amp to negative on the speaker.
How do I wire the subwoofer?
The subwoofer wiring is straightforward, it is a single 4 ohm subwoofer and you just connect positive on the amp to positive on the speaker. Repeat and do the same thing with the negative terminal. Please refer to the wiring diagram if you have any further questions.
How do I wire the LEDs in the speakers?
In order to wire the LEDs, you will need 6 conductor speaker wire. It is known by several different names, multi-function speaker wire, 6 conductor speaker wire, RGB Speaker wire, etc. The speaker wire has 2 wires to power the speakers and 4 additional wires to power the LEDs, one red, one blue, one green, and one ground. If you only want your lights to light up 1 color and they just stay that color the entire time, simply connect the red wire for red, the blue wire for blue, or the green wire for green and then the ground wire. If you want more color options (up to 20), or the ability to change between 19 color changing and flashing modes, you can add an RGB LED controller and you can have a full on disco party on your boat.
Is a subwoofer grille included?
The subwoofer grille is not included with this package. The speakers come with both white and charcoal grilles. Since we don't know up front which color you prefer, it is best if you add it later. Also, the subwoofer grilles are available with RGB LEDs. These speakers don't have LEDs, but if you wanted for the subwoofer you could add it. There are just too many options and some people, depending on where the mount the subwoofer might not even need a grille so we don't want to charge them for something they don't need.
Is the amp wiring kit included?
No. We do not include the amp wiring kit because every boat ends up being different. Depending on the location of your amps and the battery location, the power wire might need to be 20+ feet long for one boat and only 9 feet long for the next. The way to solve for this would be to include a 20 foot long amp wiring kit in with every package. This would then force the customer than only needs 9 feet to overpay for something he or she doesn't need.
What about the RCAs?
Similar to the amp wiring kit situation, we also don't include the RCAs because we don't know the length you need and it varies from boat to boat.
Is speaker wire included?
Speaker wire is not included. Once again, we don't know the exact length you might need. If we include it, we have to make sure we err on the side of including too much as opposed to too little.
The Bottom Line
If you are looking for top quality sound at an affordable price, and you want LEDs in your speakers this Kicker package does the job. The subwoofer is going to fill out the bottom end and give you bass without it being over the top. The KXM amps are amazing. In all honesty, this package could cost significantly more and it will still be a great value. For the money, this one is really hard to beat.
Kicker KM8 8 Inch Marine Grade Coaxial Speakers with LEDs White & Charcoal Grilles 4 Ohm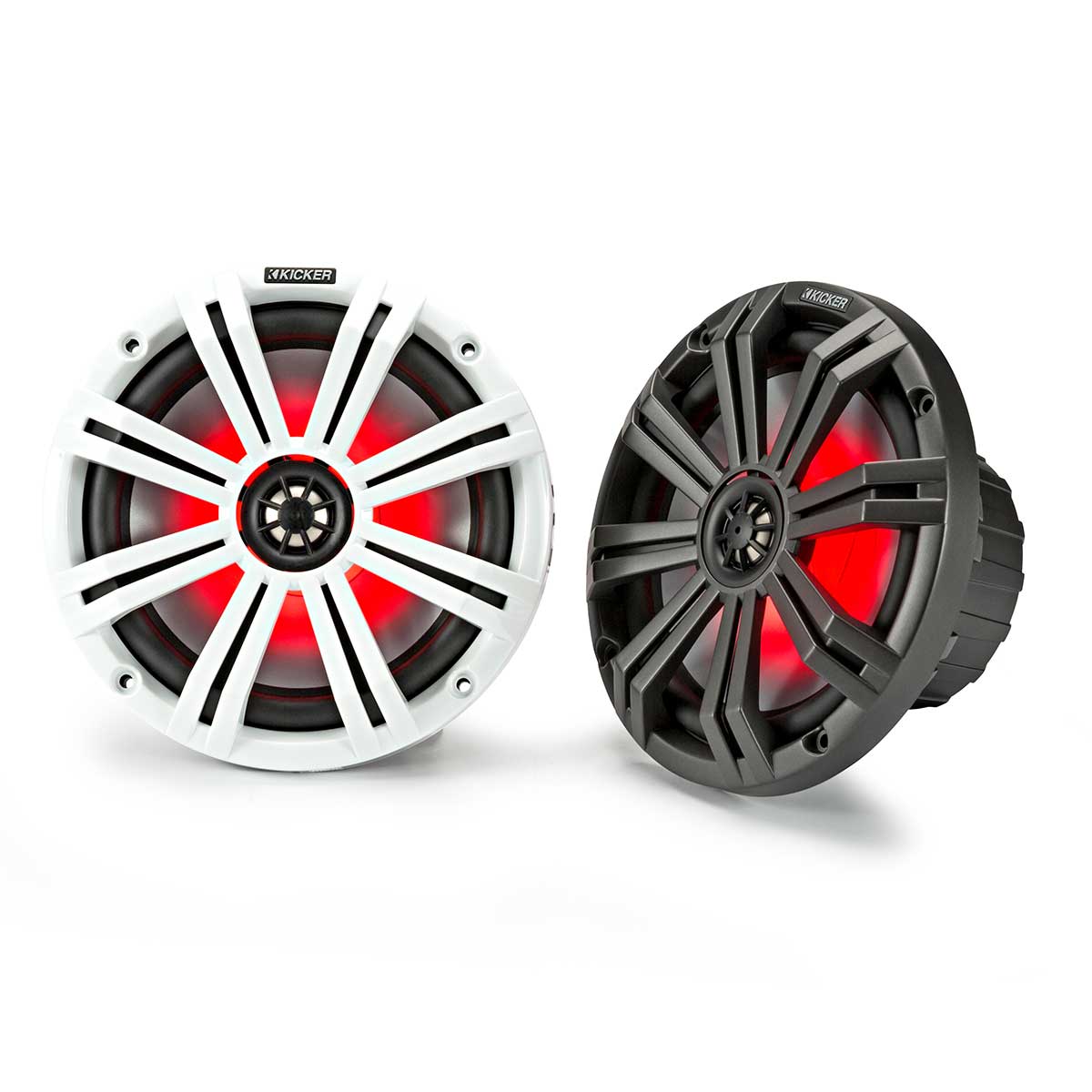 RMS Power Handling
150 Watts
Peak Power Handling
300 Watts
Frequency Response
30 Hz - 21 Khz
Sensitivity
92.0db @ 1W/1m
Mounting Depth
3.75" (82mm)
Mounting Hole Dia.
6.6875" (170mm)
Grilles Included
Both White and Charcoal
LED Lighting
Yes (Use KMLC to Control)
Kicker KMF10 10 Inch Marine Grade Free Air Subwoofer 2 Ohm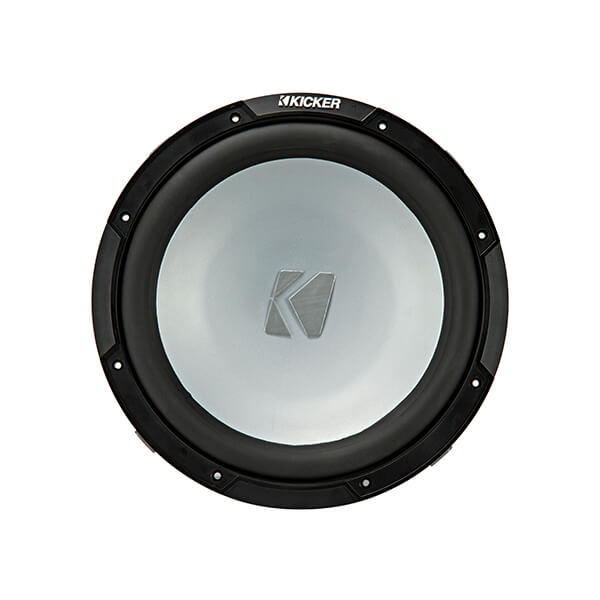 RMS Power Handling
175 Watts
Peak Power Handling
300 Watts
Frequency Response
30 Hz - 500 Hz
Sensitivity
86.27db @ 1W/1m
Mounting Depth
5.00" (127mm)
Mounting Hole Dia.
9.25" (235mm)
LED Lighting
Optional with Grille Purchase (sold separately)
Why Should You Buy from MarineStereo.com?
Free Shipping on Orders over $100

You don't have to pay for shipping on all orders over $100. Applies to the continental US only. Orders under $100 are a flat rate, $9.95.

Free Returns

You can return any item within 30 of receipt. Continental US only. No re-stocking fees. We email you a label. You drop it off at a FedEx location. Items must be un-installed and in the original packaging.

60 Day Satisfaction Guarantee

We sell the best products in the industry. If you decide within 60 days that you don't like the way your boat sounds, let us know. We will work with you to exchange your products for something else. We want you to be happy with the way your boat sounds, we believe in the products we sell, and we are confident that we can find a solution that will put a smile on your face.

Online Authorized

We are online authorized to sell the best marine audio products in the world. When you buy from MarineStereo.com, not only do we stand behind the product, but so does the manufacturer. We are online authorized for JL Audio, Wet Sounds, Kicker, Rockford Fosgate, Fusion, Memphis, Stinger, Hertz, and more. Your warranty is valid.