If 4 is good, 6 is better. This Kicker package offers the same sound quality at a nice, affordable price point for a 6 speaker package. The Kicker marine speakers are the best value in marine speakers among the major speaker brands. The speakers can handle a ton of power, they sound really good with a nice balance of both volume and sound quality, and you can't beat the price.

The Kicker 6.5" speakers come with both charocal and white grilles, allowing you to see what both would look like and you can choose which looks best in your actual boat as opposed to having to decide up front. The Kicker speakers have titanium dome tweeters and give you the performance you expect from Kicker, true marine-grade construction, and a price point that is virtually unbeatable.

The KXM amp that is included is a great amp that is under-rated with it's actual power output. For this package, we use a 4 channel amp to power 6 speakers. The KXM amps are two ohm stable so you will wire 4 speakers off of either the Amp1 (Front) or Amp2 (Rear) outputs. Instead of 50 watts per channel going to 2 speakers at 4 ohm, we will have 100 watts per channel going to 4 speakers at 2 ohm. It ends up being 50 watts to each speaker regardless, the amp just pulls a little more current and runs a little hotter. With the KXM amps, you won't have anything to worry about at 2 ohms, you just need to decide which 4 speakers you want to group together from a volume and gain level perspective. Please see below if you have any questions or check out our blog post about proper amplifier setup to optimize the use of your head units fader function.

The speakers just sound good and they are super affordable for the performance you get. The 400 watt, 4 channel amp in this kit will work perfectly fine to power the 6 speakers will all the juice they want and need. The KXM amps are just solid. You don't necessarily need to pay more to get the volume, sound quality and performance you expect.
Kicker KM65 6.5" Marine Speakers White & Charocal Grilles 4 Ohm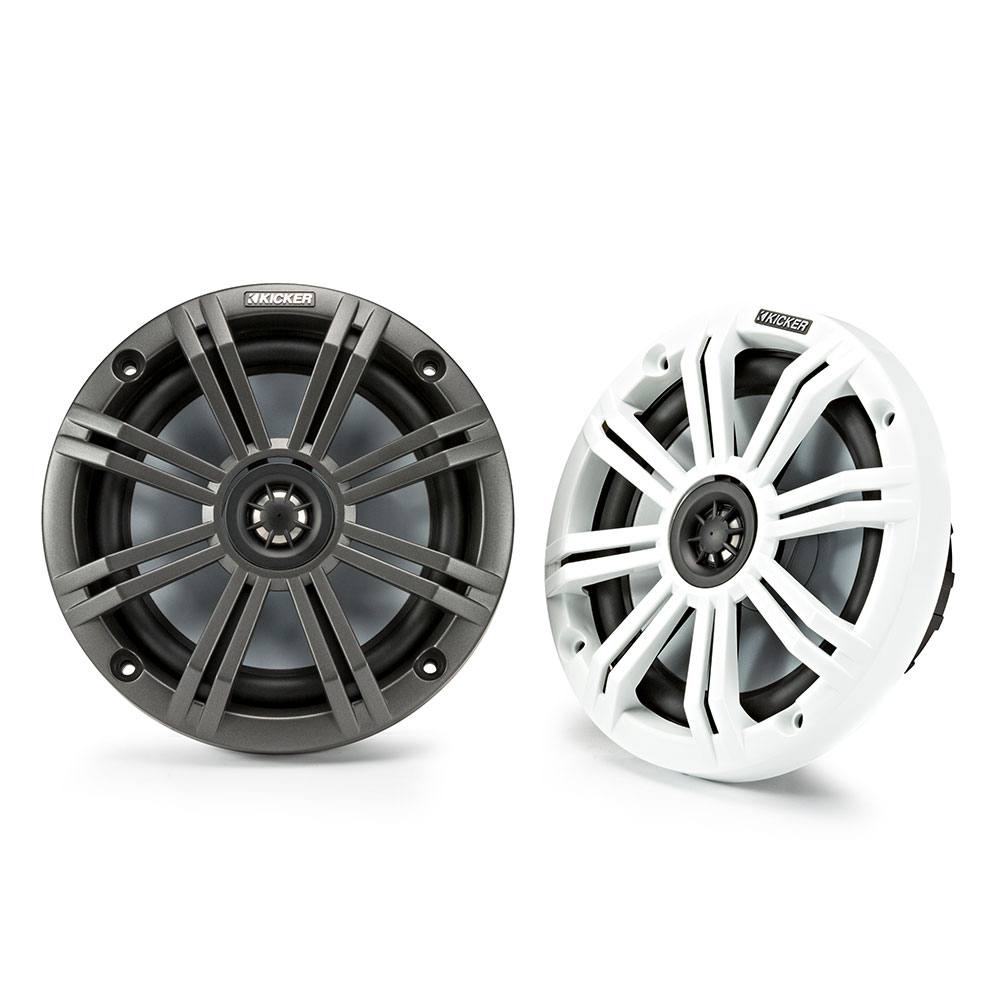 RMS Power Handling
65 Watts
Peak Power Handling
195 Watts
Frequency Response
35 Hz - 21 Khz
Sensitivity
90.0db @ 1W/1m
Mounting Depth
2.785" (72mm)
Mounting Hole Dia.
5.125" (130mm)
Grilles Included
Both White and Charcoal
LED Lighting
No (P/N 45KMC654L Has Lights)
Why Should You Buy from MarineStereo.com?
Free Shipping on Orders over $100

You don't have to pay for shipping on all orders over $100. Applies to the continental US only. Orders under $100 are a flat rate, $9.95.

Free Returns

You can return any item within 30 of receipt. Continental US only. No re-stocking fees. We email you a label. You drop it off at a FedEx location. Items must be un-installed and in the original packaging.

60 Day Satisfaction Guarantee

We sell the best products in the industry. If you decide within 60 days that you don't like the way your boat sounds, let us know. We will work with you to exchange your products for something else. We want you to be happy with the way your boat sounds, we believe in the products we sell, and we are confident that we can find a solution that will put a smile on your face.

Online Authorized

We are online authorized to sell the best marine audio products in the world. When you buy from MarineStereo.com, not only do we stand behind the product, but so does the manufacturer. We are online authorized for JL Audio, Wet Sounds, Kicker, Rockford Fosgate, Fusion, Memphis, Stinger, Hertz, and more. Your warranty is valid.