Includes:
(4) JL Audio M6 7.7" ETXv3 Marine Tower Speakers - Select Grille Color/Style
(1) JL Audio M-Series Marine Grade Amplifier
(1) Stinger Marine 4AWG 7M Marine Grade Amp Wiring Kit
(1) Stinger Marine 6 Meter, 2 Channel RCA Cable
Image Shows Clamps which are NOT INCLUDED
Options and Add-Ons:
JL Audio ETXv3 Mounting Clamps or Tower Adapters
JL Audio ETXv3 Marine Tower Speaker Neoprene Covers for All 4 Speakers
Our JL Audio M6 7.7" 4 Tower Speaker Package includes the four, JL Audio 7.7", M6 tower speakers, a JL Audio 800 watt, 8 channel, M-series amplifier, an amp wiring kit, and a 6 meter long, 2 channel, marine RCA cable. Outside of the mounting hardware and speaker wire, this kit includes everything you need to add 4 JL Audio tower speakers to your existing stereo system.
The JL Audio 7.7" M6 tower speakers offer the best sound quality among any 7.7" or 8" tower speakers, period. JL designed the M6 speakers from the ground up to deliver the best sound possible and engineered them to withstand the harsh marine environment. The enclosures are availabe in white sport, white classic, and gunmetal sport speaker grilles. The white models feature a gloss white enclosure while the titanium speakers have a satin black enclosure. All of the grille options are available with or without RGB LEDs. The 7.7" M6 speakers can handle 100 watts of RMS power and match up perfectly with the 8 channel, 800-watt M-Series amplifier. You will need to bridge the amplifier and be careful with the gain setting so that you don't overpower and burn up the speakers. The M800/8v2 can deliver more than the speakers can handle, but running the amp essentially on cruise control is much better than maxing out a the smaller, M400/4. The 1.00", specially-treated, silk dome tweeter delivers smooth, mid-bass response and a richer, warmer, more well balanced output than other marine speakers that use metal and plastic tweeter materials.
The M-series, 800 watt, 8 channel amplifier deliversmore than enough RMS power for the 7.7" M3 ETXv3 tower speakers when bridged to power the 4 tower speakers. The JL Audio M-series amplifiers are among the most popular marine amps in the world thanks to their unrivaled performance, clean yet powerful output, and superior thermal management. When running a 4 ohm load, these amps can deliver power to your speakers, while playing loud, all-day, regardless of the outside temperature. The Class-D circuitry combined with JL's signal processing make the M-series amps a no-brainer when it comes to powering your boat's stereo system. As we stated before, with this setup you can power you bridge the amplifier, keep the gains down low, and take some of the stress off of the the amplifier if you use your boat in really hot weather, you play your music really loud, and you play your system all day long.
The Stinger marine amp kit uses the traditional marine colors of red and yellow and has siamese, 4 AWG power wire. The 4AWG wire insulation is connected like what you typically see from standard speaker wire and the power and ground wires are the same length. This allows you to easily run your power wires from your amplifier to your battery and you only have to pull 1 wire. The amp kit includes a marine-grade, 80 amp fuse holder and everything else you should need for power. The amp kit does not include a circuit breaker, but you can add a JL Audio or Stinger circuit breaker if you choose to go that route. For the RCA cable, we include a single, two channel, 6 meter marine RCA cable to run from your head unit to the amplifier. Typically your tower speakers are treated as a single zone and since the JL Audio amps have selectable input switches, you can power all 4 channels from a 2 channel RCA. You don't need to fade from front to rear, but if you want to, you can always add an additional RCA, separately.
Because mounting surfaces, tube diameters, and other variables are so different from boat to boat, we offer you the option to add mounting clamps, hardware, or OEM tower adapters. Also, don't forget to protect your investment by adding neoprene covers to cover your speakers while your boat is not in use.
If you opt for the LED models, you will likely want to add an RGB LED controller if you don't already have one. We like the Stinger Marine RGB LED controller due to it's current rating and it has Bluetooth built-in so that you can change and control your speaker LEDs from your phone via an app. We also recommend Stinger 6 conductor, RGB LED speaker wire to easily power both your speakers and your lights with a single jacketed cable. The speaker wire has two 16 AWG conductors to power the speakers and 4 smaller conductors to connect to your speaker's RGB LEDs.
JL Audio M6 7.7" Tower Speakers Gloss White Sport White Grilles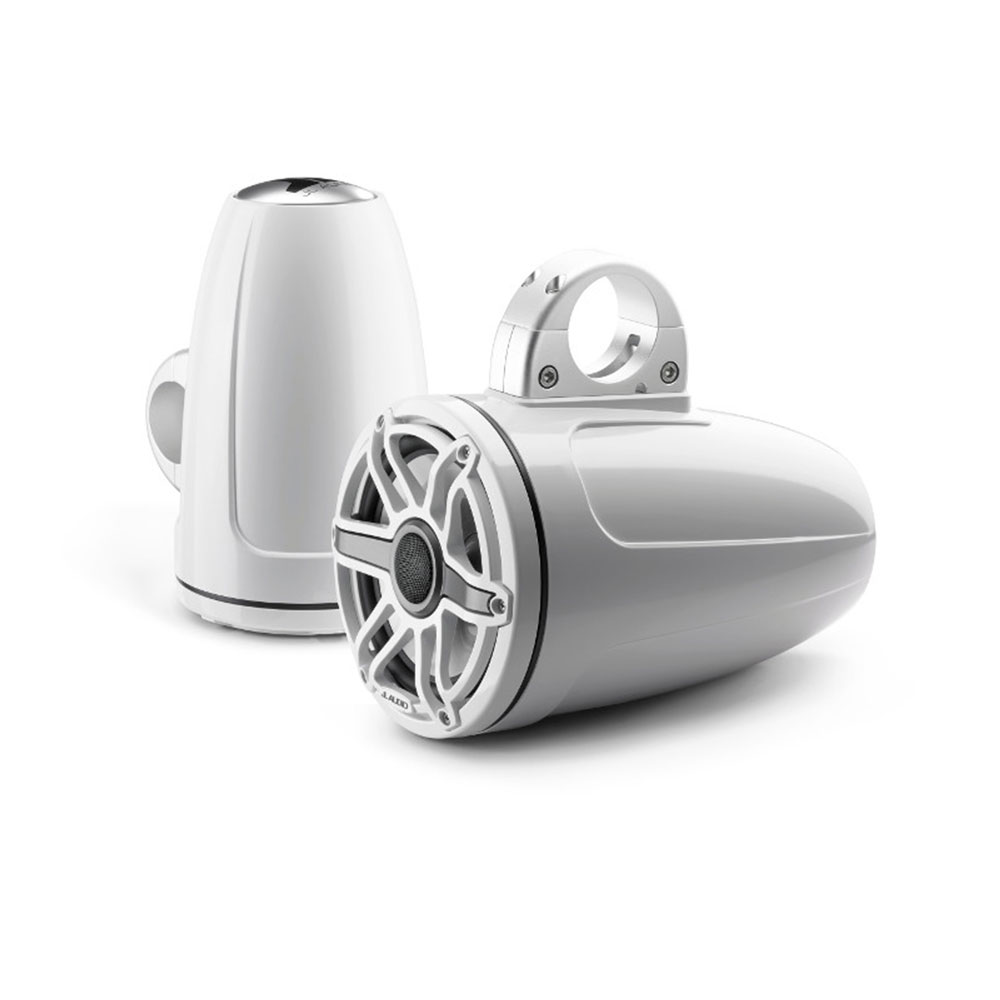 RMS Power Handling
100 Watts
Peak Power Handling
225 Watts
Recommended Amplifier Power
40-200 W/Ch.
Frequency Response
45Hz - 25 kHz +/- 3db
Sensitivity
91.0db @ 1W/1m
Enclosure Dia.
7.70" (196mm)
Enclosure Depth
12.62" (321mm)
Height w/ Mounting Clamp Receiver
8.74" (222mm)
Clamp Receiver Offset
1.04" (26mm)
JL Audio M800/8v2 800 Watt 8 Channel Marine Amplifier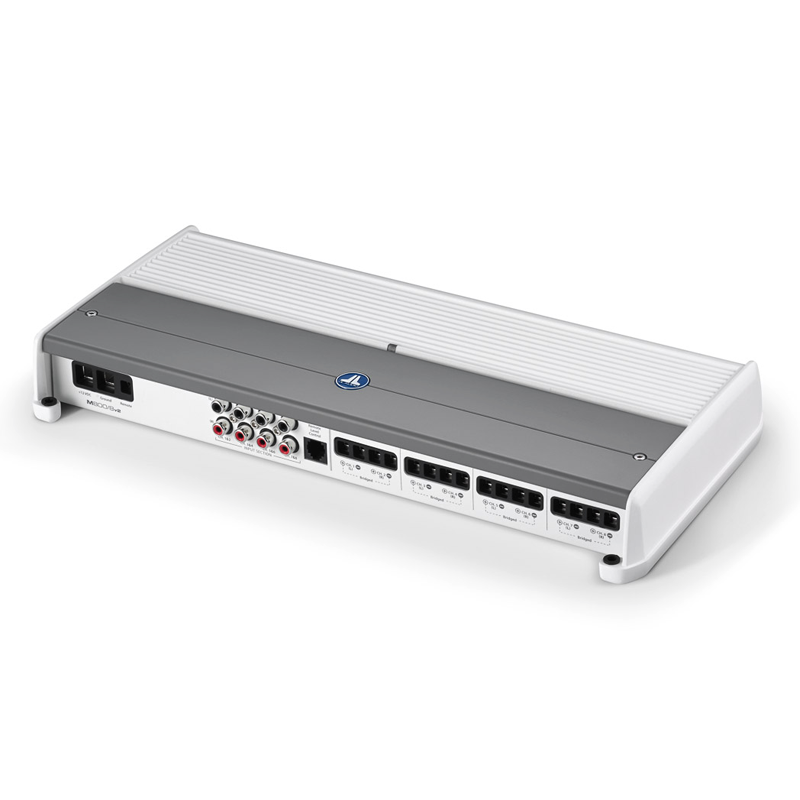 Rated Power @ 4 Ohm (Full Range)
75W x 8
Rated Power @ 2 Ohm (Full Range)
100W x 8
Rated Power @ 4 Ohm (Bridged)
200W x 4
Frequency Response
12Hz - 22kHz
Input Sensitivity
100mV - 4V
Filters
OFF, High-Pass, Low-Pass
THD+N @Rated Power
<1.0% @ 2 Ohms
Selectable Input Mode
Yes (2/4/6/8 Ch.)
Pass-Through Pre-Amp Output
No
Recommended Power Wire
4 AWG
Remove Level Control
Yes (HD-RLC)
Stinger Marine 4ga Amp Power Kit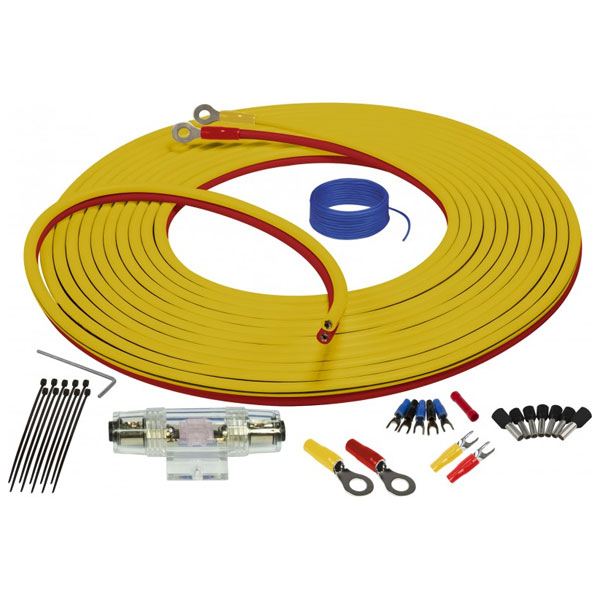 Power/Ground Wire Length
22.96 ft (7m)
Remote Wire AWG/Legnt
22.96 ft(7m)/18ga
Fuse Holder
Water Resistant MIDI/AFS
Included Fuse Rating
80A MIDI/AFS
Ring Terminals Included
2 4ga Power (Red & Yellow)
Power/Ground Wire Ferrules
2 Pcs (4 ga)
Speaker Wire Ferrules
4pcs (16ga)
Remote Wire Ferrules
1pc (18ga)
Spade Terminals
5 pcs 16-22ga
Fork Terminals
2 pcs (8 ga)
Butt Connectors
1 pcs (22-18ga)
Cable Ties
20 pcs, 7" Long
Stinger Marine 2 Channel RCA 6M 19.7 ft.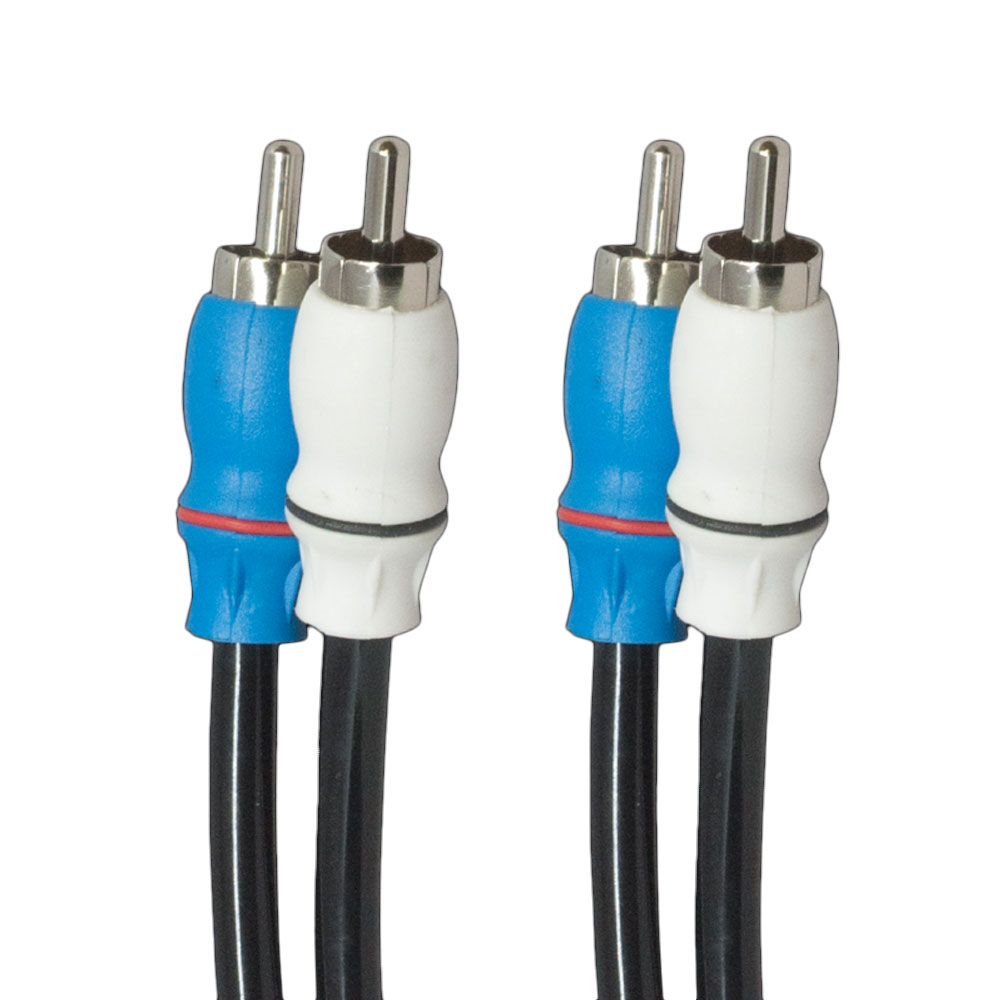 Why Should You Buy from MarineStereo.com?
Free Shipping on Orders over $100

You don't have to pay for shipping on all orders over $100. Applies to the continental US only. Orders under $100 are a flat rate, $9.95.

Free Returns

You can return any item within 30 of receipt. Continental US only. No re-stocking fees. We email you a label. You drop it off at a FedEx location. Items must be un-installed and in the original packaging.

60 Day Satisfaction Guarantee

We sell the best products in the industry. If you decide within 60 days that you don't like the way your boat sounds, let us know. We will work with you to exchange your products for something else. We want you to be happy with the way your boat sounds, we believe in the products we sell, and we are confident that we can find a solution that will put a smile on your face.

Online Authorized

We are online authorized to sell the best marine audio products in the world. When you buy from MarineStereo.com, not only do we stand behind the product, but so does the manufacturer. We are online authorized for JL Audio, Wet Sounds, Kicker, Rockford Fosgate, Fusion, Memphis, Stinger, Hertz, and more. Your warranty is valid.