What is Included?
This package includes the following:
(6) 6.5" JL Audio M3 marine grade speakers
JL Audio Marine Amplifier Setup
(1) 10" JL Audio M3 Subwoofer
A 4 AWG Marine Amplifier Wiring Kit Per Amplifier
The Option to Add a 2nd Subwoofer
JL Audio M3 speakers and subwoofers give you the superior sound quality you expect from JL marine speakers, but at an affordable price point. These speakers sound better than the other similar priced 6.5" speakers. The M3 might be just slightly more expensive, but you do get what you pay for. In terms of the subwoofer, JL is known for their subwoofers. They do subs better than anyone else and you don't have to worry about putting the subwoofer in an enclosure. The subwoofer is designed for free-air applications and you can install it directly into the hull of the boat. The M series amps offer unrivaled, power, signal processing and thermal management. This means your stereo sounds better and you can run it as loud as you want, for as long as you want, and you don't have to worry about the amps cutting out or overheating.
How do I wire the speakers?
The M700/5, 5 channel amplifier has 4 speaker outputs and 1 subwoofer output. In order to wire 6 speakers to 4 outputs, one of the outputs will have 4 speakers wired to it. These speakers will run at 2 ohms instead of 4. The 4 speakers at 2 ohms will technically get less power than the 2 at 4 ohms, but you can use the fader in your head unit to correct the difference and make sure that all 6 speakers are playing at the same volume. The clarity difference from the difference in power in a noisy, outdoor environment like a boat will not be noticable.
How do I wire the subwoofer?
The subwoofer wiring is straightforward, it is a single 4 ohm subwoofer and you just connect positive on the amp to positive on the speaker. Repeat and do the same thing with the negative terminal. Please refer to the wiring diagram if you have any further questions.
Is a subwoofer grille included?
Yes, the JL Audio M3 10" subwoofer comes with the same color and style grille of the speakers. Everything will match nicely
Is the amp wiring kit included?
No. We do not include the amp wiring kit because every boat ends up being different. Depending on the location of your amps and the battery location, the power wire might need to be 20+ feet long for one boat and only 9 feet long for the next. The way to solve for this would be to include a 20 foot long amp wiring kit in with every package. This would then force the customer than only needs 9 feet to overpay for something he or she doesn't need.
What about the RCAs?
Similar to the amp wiring kit situation, we also don't include the RCAs because we don't know the length you need and it varies from boat to boat.
Is speaker wire included?
Speaker wire is not included. Once again, we don't know the exact length you might need. If we include it, we have to make sure we err on the side of including too much as opposed to too little.
The Bottom Line
If you prefer sound quality over just sheer volume, but you want an affordable this package is perfect. With the speakers and amplifiers in this package, your system will get as loud as your ears can handle, inside your boat. If you want to be the loudest guy on the water and make sure that everyone else can hear your music, there are probably better options from Rockford or Wet Sounds. If you want something that is going to sound great and you don't care about others hearing your music, you just want to be able to hear your music, as loud as YOU want to hear it, and you want it to sound fantastic, the JL Audio M3's are perfect.
Why You Should Buy from MarineStereo.com
60 Day Guarantee
If you purchase this package and you are not happy with it within 60 days from the date of purchase, you can exchange it for something else.
Customer support
When you purchase from MarineStereo.com we will provide you with lifetime technical support. If you need help with wiring, installation, or product setup, our staff will walk you through the process to ensure that you get your product installed and working properly.
Risk-Free Shopping with Free Shipping & Free Returns
Since this item is over $100, it qualifies for free shipping within the continental United States. If you decide you want to return the items within 14 days of receipt and you are in the continental US, we will send you a return label to send the product back to us, free of charge. Product must be new, uninstalled and in the original packaging to qualify for free-returns.
Hassle Free Shopping
Our stereo packages offer hassle free shopping. We have taken the time to select the best components from the best manufacturers to ensure that the speakers, subwoofer, and amplifier all work well together. You don't have to try to piecemeal things together only to wonder, "Is this going to sound good?". We have done that work for you and the answer to that question is, "Yes". We have a ton of experience with all of the brands that we carry and we know what make each product and brand a little different than the others.
"We won't sell you anything we wouldn't put in our own boat"
JL Audio M3-650X-S-Gw 6.5" Marine Speakers Pair Gloss White Sport Grilles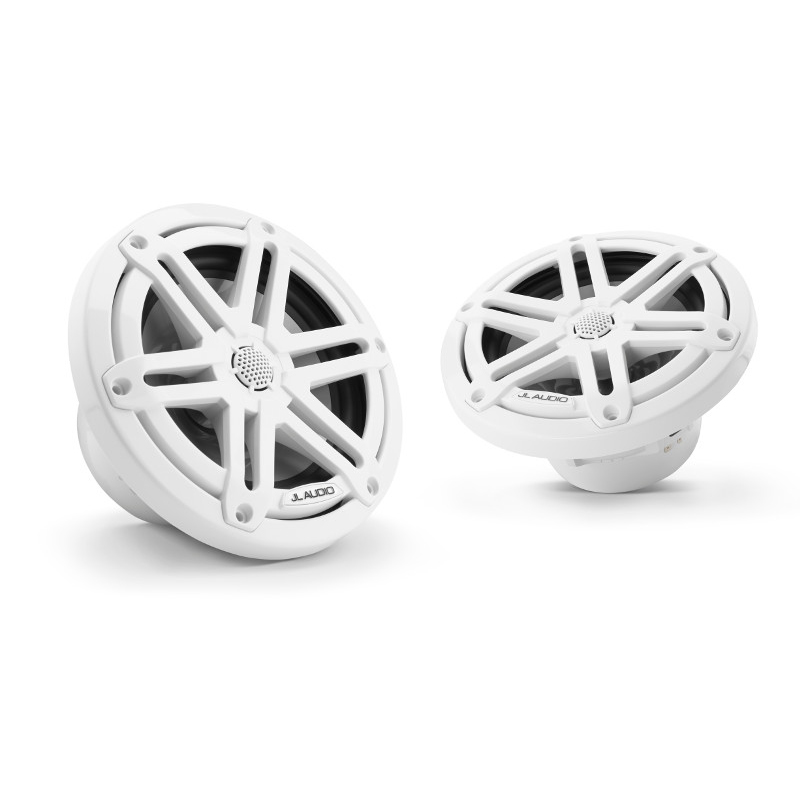 RMS Power Handling
60 Watts
Peak Power Handling
225 Watts
Recommended Amplifier Power
20-125 W/Ch.
Frequency Response
55Hz - 25 kHz +/- 3db
Sensitivity
89.5db @ 1W/1m
Mounting Depth
2.74" (69.5mm)
Mounting Hole Dia.
5.00-5.25" (127-133mm)
Bolt Circle Diameter
6.125" (155.5mm)
Frame Outer Dia.
6.90" (175mm)
JL Audio M3 10 Inch Subwoofer for Infinite Baffle Gloss White Sport Grille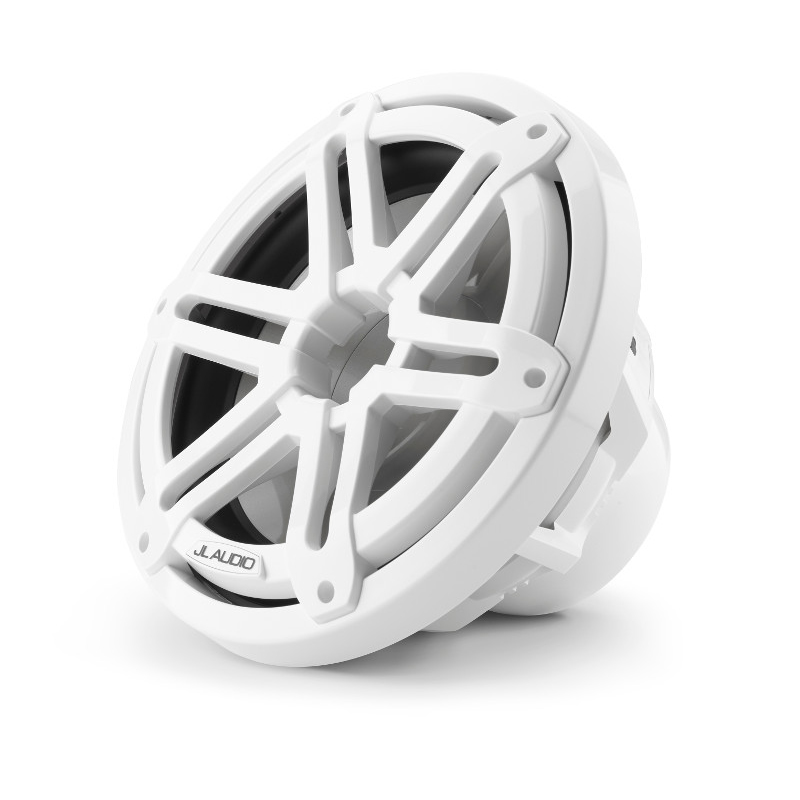 RMS Power Handling
175 Watts
Recommended Power
100W - 175W
Sensitivity
87.23db @ 1W/1m
Mounting Depth
5.12" (130mm)
Mounting Hole Diameter
8.875" (225mm)
Bolt Hole Circle Diameter
9.70" (247mm)
Overall Diameter
10.75" (273mm)
JL Audio M700/5 700 Watt 5 Channel Marine Amplifier
Rated Power @ 4 Ohm
75W x 4 +180W x 1
Rated Power @ 2 Ohm (Full Range)
100W x 4 + 300W x 1
Rated Power @ 4 Ohm (Bridged)
200W x 2 + N/A
Frequency Response
12Hz - 22kHz/10 Hz - 1 kHz
Input Sensitivity
100mV - 4V
Filters Ch. 1&2
High Pass Only
Filters (Ch. 3&4)
High Pass or Bandpass
Filters (Subwoofer)
Low Pass
Crossovers
12 dB/Octave (Full Range), 12/24 dB/Octave (Subwoofer)
THD+N @Rated Power
<1.0% @ 2 Ohms
Selectable Input Mode
Yes (2/4/6 Ch.)
Pass-Through Pre-Amp Output
No
Recommended Power Wire
4 AWG
Remove Level Control
Yes (HD-RLC)
Why Should You Buy from MarineStereo.com?
Free Shipping on Orders over $100

You don't have to pay for shipping on all orders over $100. Applies to the continental US only. Orders under $100 are a flat rate, $9.95.

Free Returns

You can return any item within 30 of receipt. Continental US only. No re-stocking fees. We email you a label. You drop it off at a FedEx location. Items must be un-installed and in the original packaging.

60 Day Satisfaction Guarantee

We sell the best products in the industry. If you decide within 60 days that you don't like the way your boat sounds, let us know. We will work with you to exchange your products for something else. We want you to be happy with the way your boat sounds, we believe in the products we sell, and we are confident that we can find a solution that will put a smile on your face.

Online Authorized

We are online authorized to sell the best marine audio products in the world. When you buy from MarineStereo.com, not only do we stand behind the product, but so does the manufacturer. We are online authorized for JL Audio, Wet Sounds, Kicker, Rockford Fosgate, Fusion, Memphis, Stinger, Hertz, and more. Your warranty is valid.