Do you need to either add a stereo to your boat or upgrade your existing equipment?
Are you looking for high quality full range sound that is going to have enough bass to fill out the bottom end of your music and you only have room for 1 subwoofer?
Are you searching for a complete solution that is going to sound great, work well together, or you don't have to worry about making sure every component will work together?
We have put together our marine stereo packages using the best products available in order to give customers a complete, easy to order solution to meet their audio needs.
This package is perfect if any of these descriptions fit you...
You have a boat that currently has (4), 6.5" speaker in the hull and either currently has a single 10" subwoofer or has room to add a 10" subwoofer.
Your boat does not currently have a stereo system in it, but you have room for (4) 6.5" speakers and a 10" subwoofer
When out on the water, you want to make sure your music is loud enough and clear enough that you can turn it up over the engine, wind, and water noise.
You want to make sure that your speakers are not going to distort when you turn the volume up loud enough to hear over the ambient noise.
You need a subwoofer to fill out the bottom end of your music to give you true, full range response that is going to sound like your home theater system.
You want a really good sounding system and you want to spend as little as possible.
What is Included?
This package includes the following:
(4) 6.5" Stinger Marine Speakers
(1) Stinger Marine 700W 4 channel amplifier
(1) 10" Stinger marine subwoofer
This Stinger package offers really good sound quality and volume for the price. The Stinger speakers can handle a good amount of power and they sound better and play louder than you expect. Stinger is known for their wire and cable accessories. They have since expanded into marine and developed amps and speakers. Their product development manager previosly worked at Rockford Fosgate and they have come out with really nice, good sounding, affordable products. The price you pay for Stinger is all for the product, you aren't paying a premium to support a big marketing and branding budget. You get mid-teir speaker quality at a value-tier price. In a boat, it is a noisy environment with engine, wind and water noise. You need raw power to push the speakers to play crisp, clear, loud, and without distortion. Well, the Stinger SPX700X4 amplifier puts out tons of raw power in a small package. This amp is putting out 125 watts of RMS power when other similar priced amps are putting out 50-75. The value is unbeatable. The same is true with the 2 channel amp that power the subwoofer. It is super compact, it will withstand the elements, and you just get tons of raw power to ensure that your music plays crystal clear over all of that ambient noise.
How do I wire the speakers?
The speaker wiring on this package is straightforward. The amp has 4 speaker outputs. Run positive on the amp to positive on the speaker and negative on the amp to negative on the speaker for each of the 4 speakers. Please see the diagram for more details
How do I wire the subwoofer?
The subwoofer will require you to bridge the SPX350X2, 2 channel amplifier. The amp will designate which positive (+) terminal and which negative (-) terminal you need to use to bridge the amp. Next, just wire positive to positive and negative to negative. See the diagram for more info.
Is a subwoofer grille included?
The Stinger 10" marine subwoofer comes with a silver grille.
Is the amp wiring kit included?
No. We do not include the amp wiring kit because every boat ends up being different. Depending on the location of your amps and the battery location, the power wire might need to be 20+ feet long for one boat and only 9 feet long for the next. The way to solve for this would be to include a 20 foot long amp wiring kit in with every package. This would then force the customer than only needs 9 feet to overpay for something he or she doesn't need.
What about the RCAs?
Similar to the amp wiring kit situation, we also don't include the RCAs because we don't know the length you need and it varies from boat to boat.
Is speaker wire included?
Speaker wire is not included. Once again, we don't know the exact length you might need. If we include it, we have to make sure we err on the side of including too much as opposed to too little.
The Bottom Line
Don't be fooled by the lack of a "brand" name. This Stinger package gets loud, plays clear, and sound good without forcing you to give-up your first born. If you want to add a stereo sytem to your boat or upgrade what you have, but you are on a limited budget, go with this Stinger package. It somewhat sounds too good to be true, but it's not. It's just a great overall value. Oh yea, and the subwoofer is super sneaky. It doesn't look impressive but it sounds amazing and puts out way more bass thank you would expect for a 10".
Stinger 6.5" Marine Grade Coaxial Speakers Silver Pair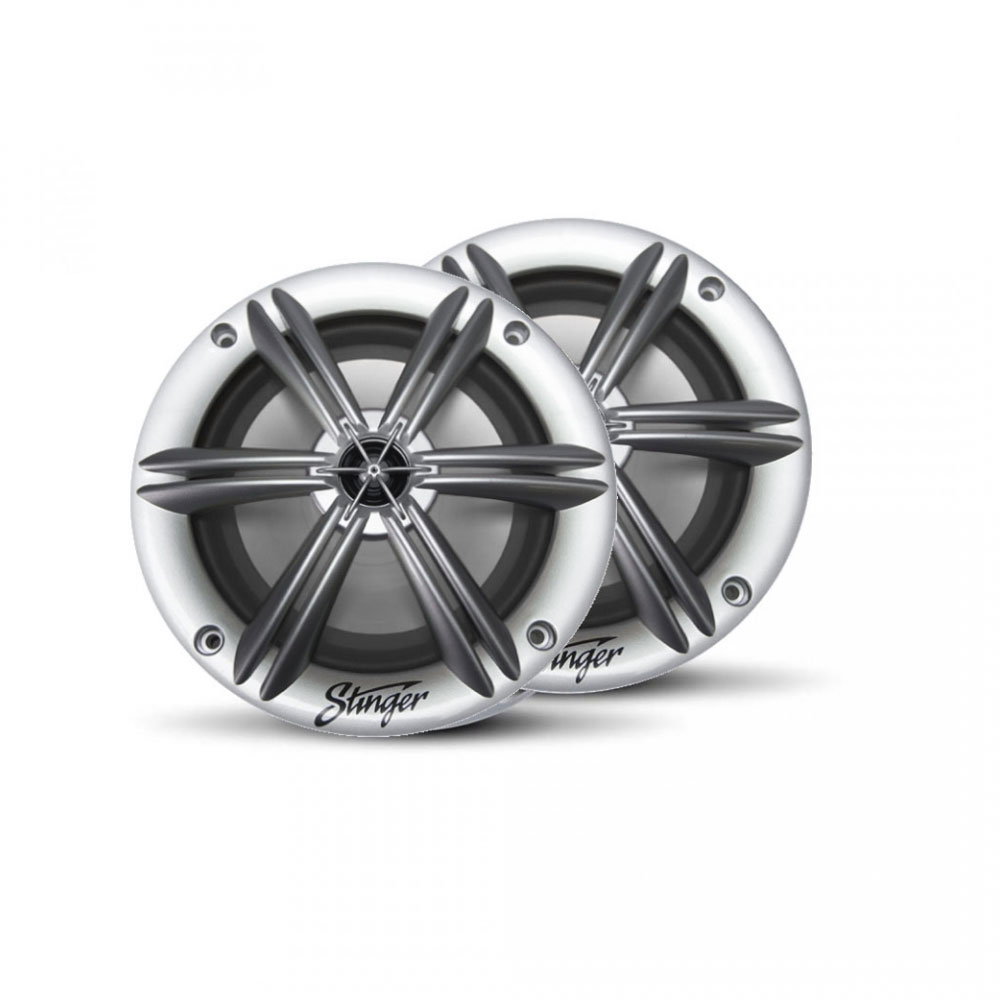 RMS Power Handling
75 Watts
Peak Power Handling
150 Watts
Stinger 10" Marine Subwoofer 4 Ohm SVC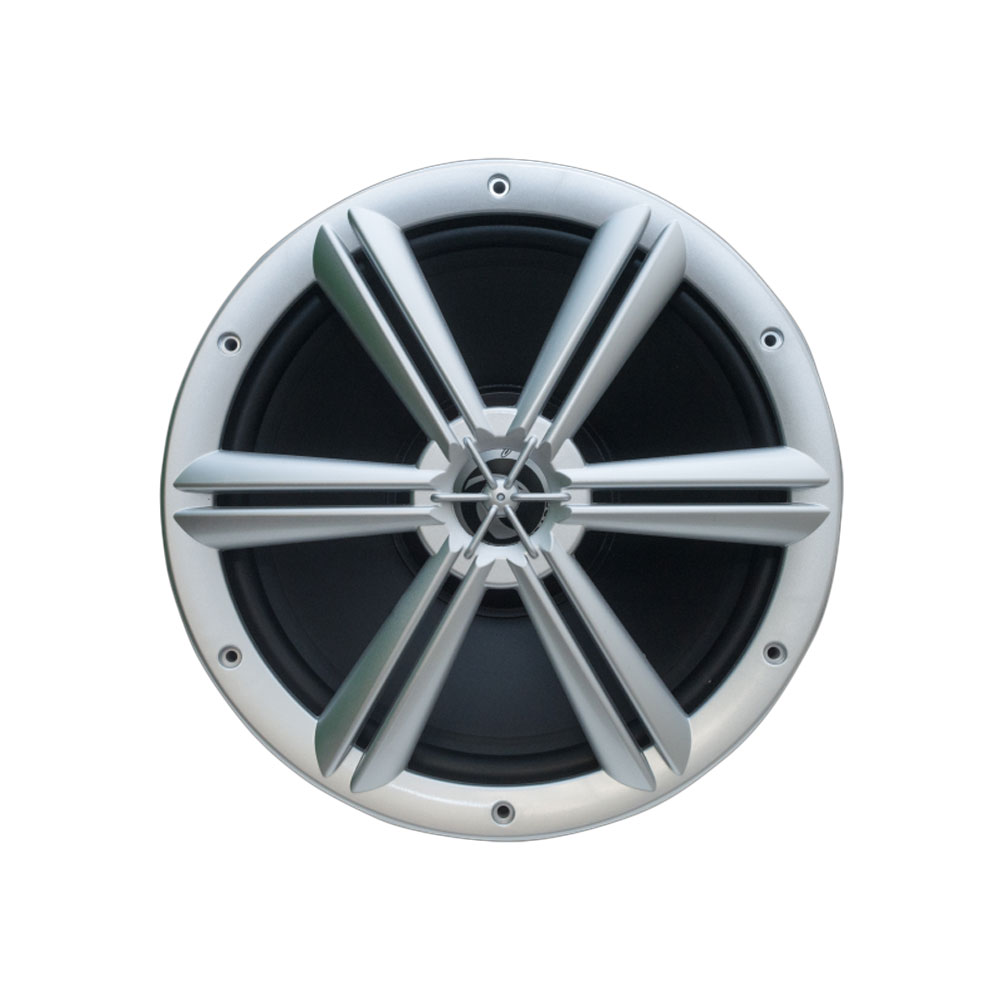 RMS Power Handling
150 Watts
Peak Power Handling
300 Watts
Cutout Diameter
9.25" (235mm)
Mounting Depth
4.33" (110mm)
Enclosure Application
Yes
Stinger 700 Watt 4 Channel Marine Amplifier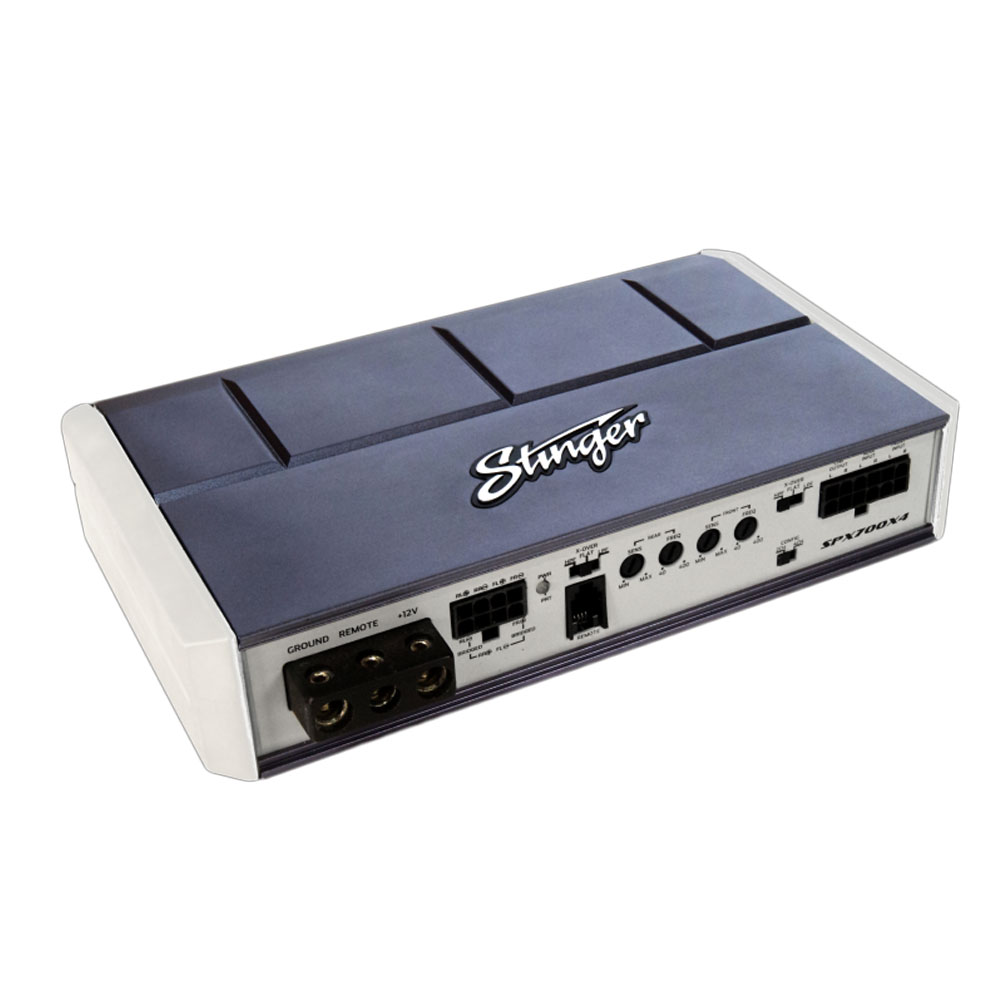 Rated Power @ 4 Ohm (Full Range)
125W x 4
Rated Power @ 2 Ohm (Full Range)
175W x 4
Rated Power @ 4 Ohm (Bridged)
350W x 2
Frequency Response
20Hz - 20kHz
Input Sensitivity
200mV - 12V
Filters
High-Pass, Low-Pass, All-Pass
THD+N @Rated Power
<1.0% @ 4 Ohms
LED Clipping Indicator
No
Recommended Power Wire
4 AWG
Why Should You Buy from MarineStereo.com?
Free Shipping on Orders over $100

You don't have to pay for shipping on all orders over $100. Applies to the continental US only. Orders under $100 are a flat rate, $9.95.

Free Returns

You can return any item within 30 of receipt. Continental US only. No re-stocking fees. We email you a label. You drop it off at a FedEx location. Items must be un-installed and in the original packaging.

60 Day Satisfaction Guarantee

We sell the best products in the industry. If you decide within 60 days that you don't like the way your boat sounds, let us know. We will work with you to exchange your products for something else. We want you to be happy with the way your boat sounds, we believe in the products we sell, and we are confident that we can find a solution that will put a smile on your face.

Online Authorized

We are online authorized to sell the best marine audio products in the world. When you buy from MarineStereo.com, not only do we stand behind the product, but so does the manufacturer. We are online authorized for JL Audio, Wet Sounds, Kicker, Rockford Fosgate, Fusion, Memphis, Stinger, Hertz, and more. Your warranty is valid.