This package is perfect for you if...
You are want to upgrade the system in your boat that currently has (4), 8" speakers in the hull and you want to add or upgrade (4) tower speakers
Your boat does not currently have a stereo system in it, but you have room for (4) 8" speakers and you want to add (4) tower speakers
When out on the water, you want to make sure your music is loud enough and clear enough that both you and the people you are towing you can hear your music clearly and without distortion over the engine, wind, and water noise, even 50-100 yards behind the boat
What is Included?
This package includes the following:
(4) Rockford M2 8" Speakers
(4) Rockford 8" M2 Horn Tower Speakers
Your Choice of Rockford Fosgate Marine Amplifiers
(1) 4 AWG 7m Marine Amp Wiring Kit
This is the kit right here! The Rockford Punch marine speakers in the hull with the Rockford horn tower speakers. The Rockford Fosgate Punch marine speakers will get LOUD. Rockford is known for their signature sound profile which is bright, loud, and in your face. In marine applications, the hull speakers are usually down low and away from your ears. On top of that, you usually have a ton of ambient noise from the engine, wind, and water. You need something that is going to get loud and cut through all of that other noise so that you can hear you music loud and clear. Now, lets get to the horn tower speakers. These are the loudest, best sounding tower speakers available. The horn tweeters are that much louder than the standard tower speakers. They are melt your face off, make your ears bleed loud. They are perfect for moutning on the wake tower as they give the people you are towing maximum volume and maximum distance. Also, if you just want to be as loud as possible without putting 10 or 12 tower speakers on your boat, this is the way to do it. The TM400x4 amplifier that is included is not only one of the best marine amplifiers, but it is also one of the best values. The TM400x4ad is rated at 100 watts per channel but it's actual power output will be much higher than that. Do not turn the gains up all the way as these little amplifiers pack a punch. The TM400x4ad has a constant power circuit to ensure that you are getting 100W per channel across all impedances. This provides you with a difference that you can hear versus 100 watts on any other amplifier. The Rockford Punch speakers combined with the power mini amplifiers is probably our second favorite marine setup if you are looking for something that is going to get loud, behind the Rockford package with the horn tower speakers. If you are serious about wanting a loud stereo, go with the Rockford horn tower speakers. The horns are significantly louder and provide more volume and distance, but they are significantly more expensive.
Rockford Fosgate PM282 Punch Marine 8" Coaxial Speakers White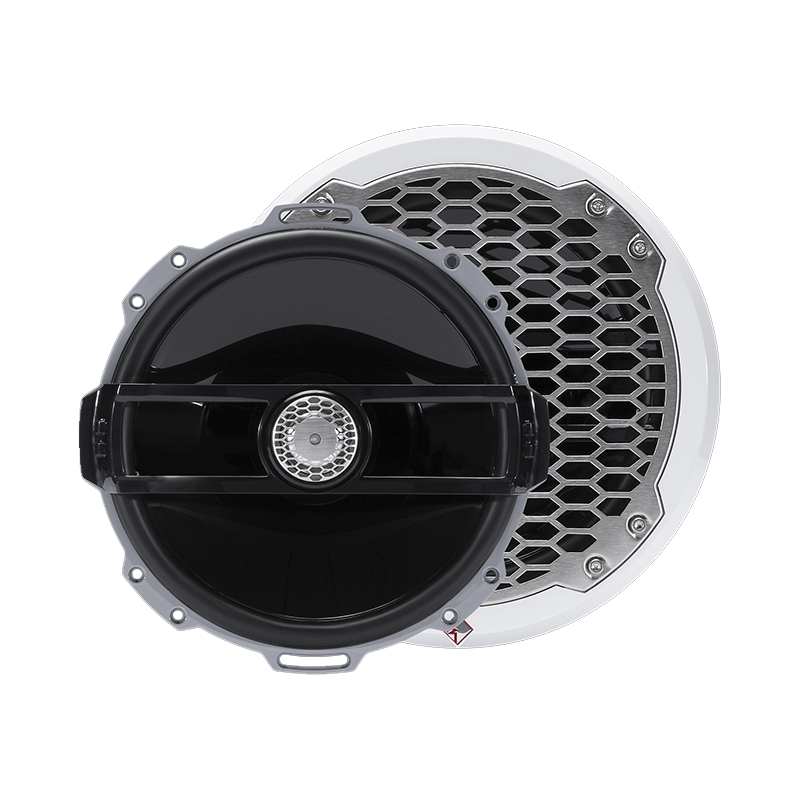 RMS Power Handling
100 Watts
Peak Power Handling
200 Watts
Recommend Amplifier Power
40-200 W/Ch.
Frequency Response
48 Hz - 22 Khz
Sensitivity
90.0db @ 1W/1m
Mounting Depth
3.4" (87mm)
Mounting Hole Dia.
7.1" (180mm)
Bolt Circle Diameter
7.8" (197mm)
Frame Outer Diameter
9.1" (230mm)
Rockford Fosgate PM282HW 8" Wake Tower Speakers - Horn Tweeters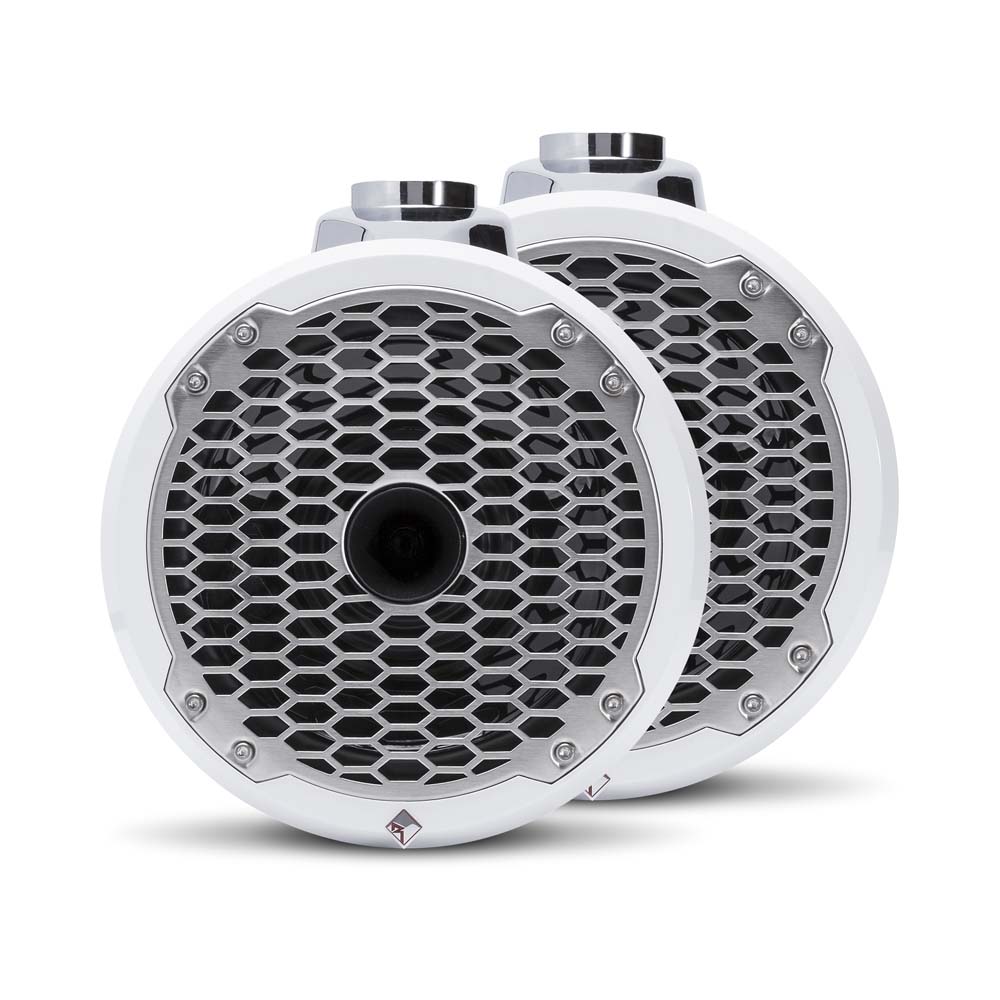 RMS Power Handling
150 Watts
Peak Power Handling
300 Watts
Recommend Amplifier Power
100-300 W/Ch.
Frequency Response
63 Hz - 22 Khz
Sensitivity
93.0db @ 1W/1m
Tube Compatability
1-1/2" to 2-3/4" (Clamps Sold Separately)
Height (To Top of Adapter)
10.9" (277mm)
Height (Back)
6.8" (174mm)
Rockford Fosgate TM400X4AD Power Mini 400 Watt 4 Channel Marine Amplifier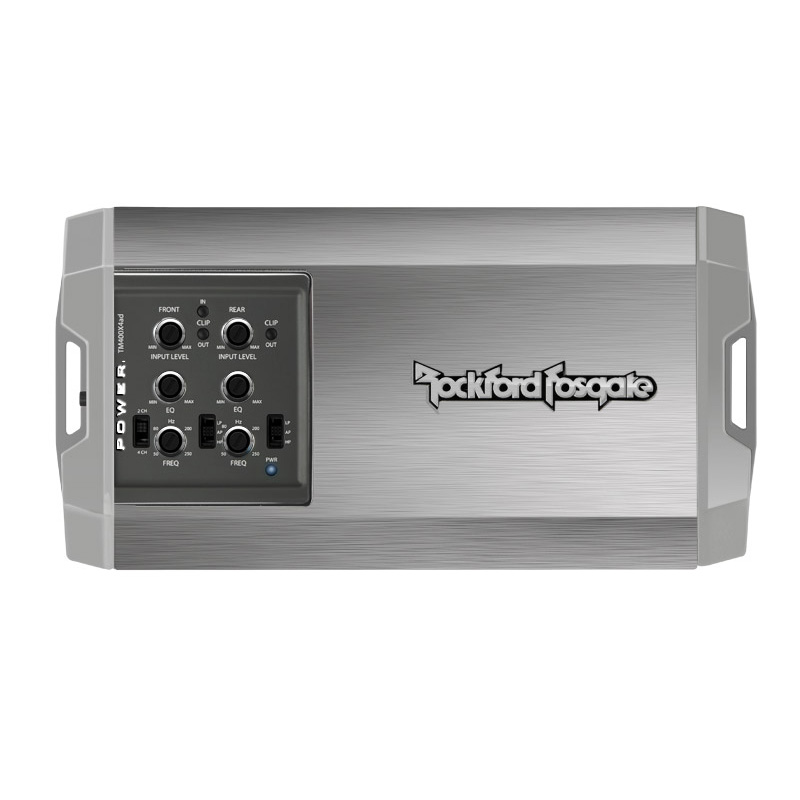 Rated Power @ 4 Ohm
100W x 4
Rated Power @ 2 Ohm
100W x 4
Rated Power (Bridged @ 4 Ohms)
200W x 2
Frequency Response
20Hz - 20kHz
Input Sensitivity
150 mV to 12 V
Filters
High-Pass, Low-Pass, All-Pass
LED Clipping Indicator
Yes
Recommended Power Wire
8 AWG
How do I wire the hull speakers?
Powering the speakers for audio is straightforward with this package. For each channel, connect positive on the amplifier to positive on the speaker and negative on the amp to negative on the speaker. Do this for all 4 speakers using all 4 channels on one of the TM400x4ad amps. The other amp will be used to power the tower speakers
How do I wire the tower speakers?
The tower speaker wiring is the same as the hull speakers. On the amplifier that you didn't use for the speakers, wire the tower speakers off of the four sets of outputs on the amplifier. Connect positive to positive and negative to negative for both the left and right outputs Do not worry about which set is front and which set is rear. You want to make sure left goes to left and right goes to right. Once you have them wired, there is a 2/4 channel input switch on the amplifier. Set that at 2. This will ensure that both the "front" and the "rear" get the same signal. Please see the diagram for a better visual explanation.
Are clamps included with the tower speakers?
No, Rockford has two different clamp sizes and the tower tube diameters vary so much. Please see the clamps listed in the related products once you add the package to your cart.
Is the amp wiring kit included?
No. We do not include the amp wiring kit because every boat ends up being different. Depending on the location of your amps and the battery location, the power wire might need to be 20+ feet long for one boat and only 9 feet long for the next.
Similar to the amp wiring kit situation, we also don't include the RCAs because we don't know the length you need and it varies from boat to boat.
Is speaker wire included?
Speaker wire is not included. Once again, we don't know the exact length you might need.
Why Should You Buy from MarineStereo.com?
Free Shipping on Orders over $100

You don't have to pay for shipping on all orders over $100. Applies to the continental US only. Orders under $100 are a flat rate, $9.95.

Free Returns

You can return any item within 30 of receipt. Continental US only. No re-stocking fees. We email you a label. You drop it off at a FedEx location. Items must be un-installed and in the original packaging.

60 Day Satisfaction Guarantee

We sell the best products in the industry. If you decide within 60 days that you don't like the way your boat sounds, let us know. We will work with you to exchange your products for something else. We want you to be happy with the way your boat sounds, we believe in the products we sell, and we are confident that we can find a solution that will put a smile on your face.

Online Authorized

We are online authorized to sell the best marine audio products in the world. When you buy from MarineStereo.com, not only do we stand behind the product, but so does the manufacturer. We are online authorized for JL Audio, Wet Sounds, Kicker, Rockford Fosgate, Fusion, Memphis, Stinger, Hertz, and more. Your warranty is valid.