Rockford Fosgate Prime 6.5" White 4 Speaker + 1 Subwoofer Stereo Package
$1,246.96
Do you need to either add a stereo to your boat or upgrade your existing equipment?
Are you looking for high quality full range sound that is going to have enough bass to fill out the bottom end of your music and you only have room for 1 subwoofer?
Are you searching for a complete solution that is going to sound great, work well together, or you don't have to worry about making sure every component will work together?
We have put together our marine stereo packages using the best products available in order to give customers a complete, easy to order solution to meet their audio needs.
This package is perfect if any of these descriptions fit you...
You have a boat that currently has (4), 6.5" speaker in the hull and either currently has a single 10" subwoofer or has room to add a 10" subwoofer.
Your boat does not currently have a stereo system in it, but you have room for (4) 6.5" speakers and a 10" subwoofer
When out on the water, you want to make sure your music is loud enough and clear enough that you can turn it up over the engine, wind, and water noise.
You want to make sure that your speakers are not going to distort when you turn the volume up loud enough to hear over the ambient noise.
You need a subwoofer to fill out the bottom end of your music to give you true, full range response that is going to sound like your home theater system.
You want a really good sounding system but you are also on a budget
What is Included?
This package includes the following:
(4) 6.5" Rockford Fosgate Prime R1 6.5" speakers
(1) Rockford Fosgate Power TM1000x5ad amplifier
(1) 10" Rockford Fosgate Prime Subwoofer
The Rockford Fosgate Prime speakers offer tremendous value. You get the signature, Rockford Fosgate, LOUD sound but an affordable price point. Are these Prime speakers as good as the Punch, no? But they are also significantly cheaper. Do these speakers still sound great and will they be enough for most people, "Yes". When out on the water there is a ton of ambient noise from the engine(s), wind, and water. You need speakers that are going to be loud and bright, speakers that are going to cut through that noise so that you can hear your music crystal clear. The Prime speakers will get plenty loud and you will still be able to hear you stereo over all of that noise. The Rockford 10" Prime marine subwoofer is designed for both free-air and enclosed applications. You can mount the woofer in a controlled air space, or you can install it directly in the hull of your boat. Either way, the subwoofer will give you the sub-bass response to fill out the bottom end of your music to give you true, full-range response. The Rockford T1000x5ad amplifier is super small for a 1000 watt amp, but it gives you tons of raw power. The amplifier has a constant power circuit which allows you to hear the difference between 100W of this amp and 100W of any other amp. For the money and the output, this amplifier is not only one of the best amplifiers for your boat, but it is also one of the best values when you compare cost and output.
How do I wire the speakers?
The speaker wiring on this package is straightforward. The amp has 4 speaker outputs. Run positive on the amp to positive on the speaker and negative on the amp to negative on the speaker for each of the 4 speakers. Please see the diagram for more details.
How do I wire the subwoofer?
The subwoofer wiring is not as straighforward as the speakers. The Prime subwoofers are have two voice coils. For this package it includes a 2 ohm, DVC setup. You need to wire the subwoofer in series to a 4 ohm load and just be careful not to turn the gain all the way up on the amp. The amp can overpower and blow the subwoofer if you have the gain up too high.
Is a subwoofer grille included?
Yes, the Rockford Punch marine 10" subwoofer comes with the same color and style grille of the speakers. Everything will match nicely
Is the amp wiring kit included?
No. We do not include the amp wiring kit because every boat ends up being different. Depending on the location of your amps and the battery location, the power wire might need to be 20+ feet long for one boat and only 9 feet long for the next. The way to solve for this would be to include a 20 foot long amp wiring kit in with every package. This would then force the customer than only needs 9 feet to overpay for something he or she doesn't need.
What about the RCAs?
Similar to the amp wiring kit situation, we also don't include the RCAs because we don't know the length you need and it varies from boat to boat.
Is speaker wire included?
Speaker wire is not included. Once again, we don't know the exact length you might need. If we include it, we have to make sure we err on the side of including too much as opposed to too little.
The Bottom Line
If you want an affordable 6 speaker stereo system with a subwoofer, the Rockford Prime package is tough to beat. These speakers are going to play loud and give you the volume you need for a boat. The system will play as loud as you want it to for those people inside the boat. Will you be the loudest boat on the water, probably not, but you also will have spent significantly less money than the loudest guy on the water. These speakers are great, the amp is amazing, overall this package is a really good value.
Rockford Fosgate RM1652 Prime R1 Marine 6.5" Speakers
RMS Power Handling
75 Watts
Peak Power Handling
150 Watts
Frequency Response
49 Hz - 20 kHz
Mounting Depth
2.5" (63mm)
Tweeter Size
1.00" (25mm)
Mounting Hole Dia
5.5" (140mm)
Bolt Hole Dia.
6.1" (155mm)
Rockford Fosgate RM110D2 Prime Marine 10" Subwoofer 2 Ohm DVC White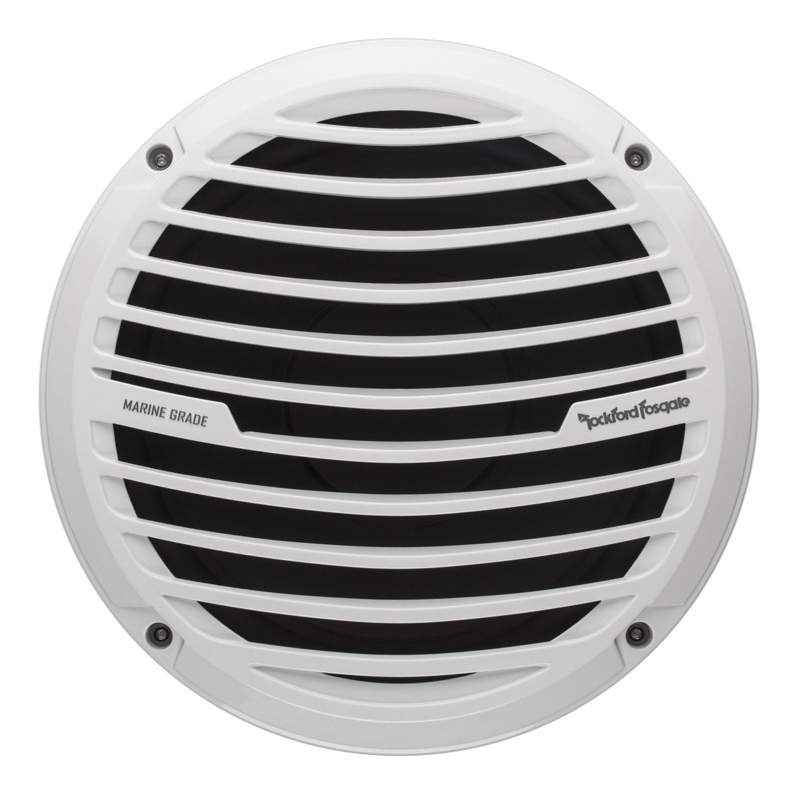 Frequency Response
31 Hz - 250 Hz
Cutout Diameter
9.0" (227mm)
Mounting Depth
4.4" (112mm)
Suitable for Free Air Application
Yes
Sealed Enclosure Volume
.75-1.25 cu. ft. (21.24-35.4 l)
Vented Enclosure Volume
1.45 cu. ft. (41.06 l)
Rockford Fosgate PM1000X5 Punch Series 1000 Watt 5 Channel Marine Amplifier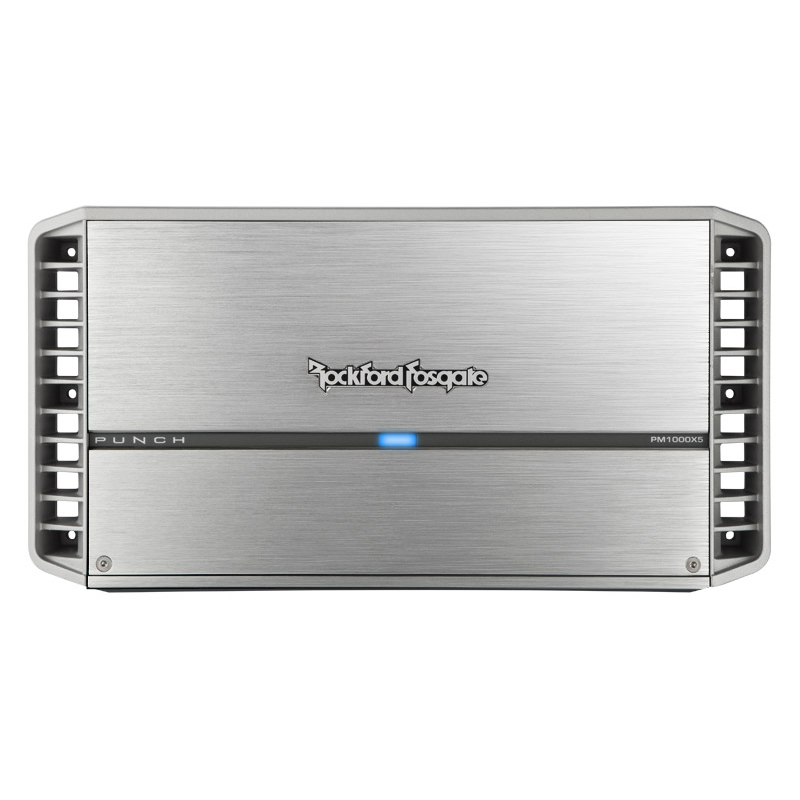 Rated Power @ 4 Ohm (Full Range)
75W x 4
Rated Power @ 2 Ohm (Full Range)
125W x 4
Rated Power @ 4 Ohm (Subwoofer)
150W x 1
Rated Power @ 2 Ohm (Subwoofer)
300W x 1
Rated Power @ 1 Ohm (Subwoofer)
500W x 1
Bridgeable
Yes (Front & Rear)
Frequency Response
20Hz - 20kHz
Input Sensitivity
150mV - 12V
Infrasonic Filter
28Hz @ 12dB/Octave
LED Clipping Indicator
Yes
Recommended Power Wire
4 AWG
Why Should You Buy from MarineStereo.com?
Free Shipping on Orders over $100

You don't have to pay for shipping on all orders over $100. Applies to the continental US only. Orders under $100 are a flat rate, $9.95.

Free Returns

You can return any item within 30 of receipt. Continental US only. No re-stocking fees. We email you a label. You drop it off at a FedEx location. Items must be un-installed and in the original packaging.

60 Day Satisfaction Guarantee

We sell the best products in the industry. If you decide within 60 days that you don't like the way your boat sounds, let us know. We will work with you to exchange your products for something else. We want you to be happy with the way your boat sounds, we believe in the products we sell, and we are confident that we can find a solution that will put a smile on your face.

Online Authorized

We are online authorized to sell the best marine audio products in the world. When you buy from MarineStereo.com, not only do we stand behind the product, but so does the manufacturer. We are online authorized for JL Audio, Wet Sounds, Kicker, Rockford Fosgate, Fusion, Memphis, Stinger, Hertz, and more. Your warranty is valid.