8 speaker stereo system will get LOUD at an affordable price point
The Prime R1 is the middle tier of Rockford's marine speaker offering, but still gives you that signature Rockford sound
Crisp, bright and loud sound profile to cut through engine, wind, and water noise
1" aluminum alloy, bridge mounted tweeter.
Spare terminal set allows you to add additional tweeters
Perfect if you want signature Rockford Fosgate volume without spending $300+ per pair of speakers
Includes (1) 10" Rockford Prime Marine Subwoofer
The Prime marine subwoofers are designed for both free-air or enclosed applications
Bass response in an open environment like a boat and with all the noise is not the same as a car. You need more bass than you think you do to get the same effect
2 subwoofer is probably ideal if you have enough space to fit both of them
You can mount the subwoofer diretly to the interior hull of the boat. No need for an enclosure, box, or to worry about air space
Dual amp setup with an TM1000x5ad and TM400x4ad gives you a gain for each pair of speakers and the subwoofers
The amp will put out give the subwoofer 400W RMS. You can't turn the gain all the way up
Each amp has a constant power circuit means you can definitely hear the difference between 100W from these amps vs. 100W from other amps
Straightforward speaker wiring for the speakers, positive to positive and negative to negative
It is a dual voice coil subwoofer that you will want to wire to a 4 ohm load (See diagram)
No need to worry about overheating
Small compact footprint for the power output
If you are sitting in the boat, this stereo system will play as loud as you want it to. Volume won't be an issue
Amp wiring kit and speaker wire are not included
Rockford Fosgate RM1652B Prime R1 Marine 6.5" Speakers Black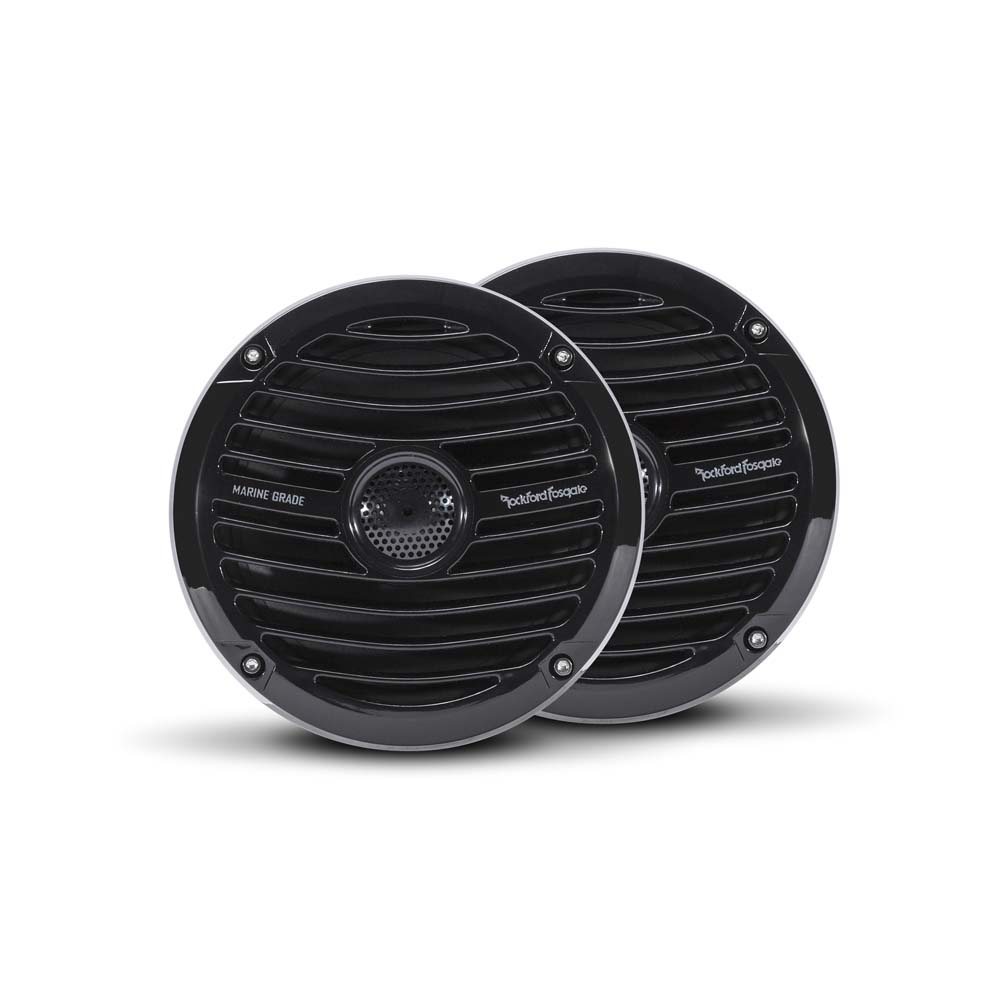 RMS Power Handling
75 Watts
Peak Power Handling
150 Watts
Frequency Response
49 Hz - 20 kHz
Mounting Depth
2.5" (63mm)
Tweeter Size
1.00" (25mm)
Mounting Hole Dia
5.5" (140mm)
Bolt Hole Dia.
6.1" (155mm)
Rockford Fosgate RM110D2B Prime Marine 10" Subwoofer 2 Ohm DVC Black
Frequency Response
31 Hz - 250 Hz
Cutout Diameter
9.0" (227mm)
Mounting Depth
4.4" (112mm)
Suitable for Free Air Application
Yes
Sealed Enclosure Volume
.75-1.25 cu. ft. (21.24-35.4 l)
Vented Enclosure Volume
1.45 cu. ft. (41.06 l)
Rockford Fosgate PM1000X5 Punch Series 1000 Watt 5 Channel Marine Amplifier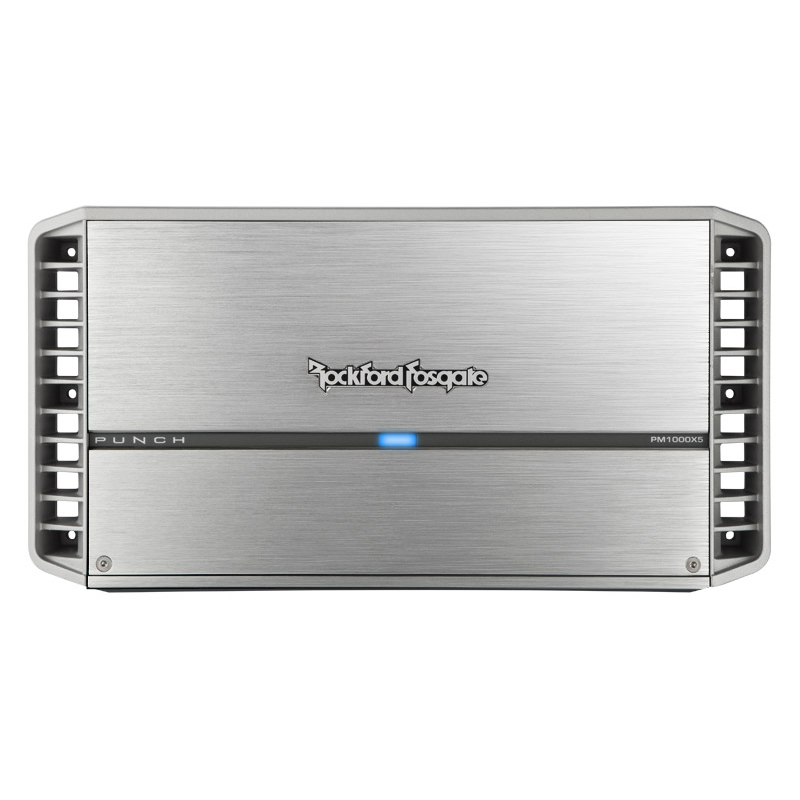 Rated Power @ 4 Ohm (Full Range)
75W x 4
Rated Power @ 2 Ohm (Full Range)
125W x 4
Rated Power @ 4 Ohm (Subwoofer)
150W x 1
Rated Power @ 2 Ohm (Subwoofer)
300W x 1
Rated Power @ 1 Ohm (Subwoofer)
500W x 1
Bridgeable
Yes (Front & Rear)
Frequency Response
20Hz - 20kHz
Input Sensitivity
150mV - 12V
Infrasonic Filter
28Hz @ 12dB/Octave
LED Clipping Indicator
Yes
Recommended Power Wire
4 AWG
Why Should You Buy from MarineStereo.com?
Free Shipping on Orders over $100

You don't have to pay for shipping on all orders over $100. Applies to the continental US only. Orders under $100 are a flat rate, $9.95.

Free Returns

You can return any item within 30 of receipt. Continental US only. No re-stocking fees. We email you a label. You drop it off at a FedEx location. Items must be un-installed and in the original packaging.

60 Day Satisfaction Guarantee

We sell the best products in the industry. If you decide within 60 days that you don't like the way your boat sounds, let us know. We will work with you to exchange your products for something else. We want you to be happy with the way your boat sounds, we believe in the products we sell, and we are confident that we can find a solution that will put a smile on your face.

Online Authorized

We are online authorized to sell the best marine audio products in the world. When you buy from MarineStereo.com, not only do we stand behind the product, but so does the manufacturer. We are online authorized for JL Audio, Wet Sounds, Kicker, Rockford Fosgate, Fusion, Memphis, Stinger, Hertz, and more. Your warranty is valid.