What is Included?
This package includes the following:
(6) Kicker 6.5" KM65 Marine Speakers with both Charcoal & White Grilles
(2) Kicker 11" Marine Horn Tower Speakers w/ RGB LEDs
(1) Kicker KXM 400W 4 Channel Amplifier
(1) KXM 1200W 2 Channel Amplifier
(2) 4 AWG Marine Amplifier Wiring Kits
The package combines with great value you get with Kicker coaxial speakers in the hull with ridiculous volume, loudness, distance, and clarity from the massive Kicker horn tower speakers. The Kicker coaxial hull speakers come with both white and charcoal grilles and feature titanium dome tweeters that will play both loud and clear. The Kicker horn tower speakers are insane. The horn tweeter blows away coaxial tower speakers and they include RGB LEDs. The horn tweeters are going to ensure that you get maximum distance and volume for the people that you are towing behind the boat. If you aren't towing, the horn tower speakers will give you the ability to ensure that everyone within a close proximity can hear your music, if you really want them to. The large size of the horn speakers can usually provide enough low-frequency response that you don't need to worry about adding a subwoofer. The Kicker KXM amps are both powerful and reliable. You can run these amps all day long, as loud as you want, and you don't have to worry about them overheating and cutting out. If you are looking for great sound quality at an affordable price, you can get it from one of the most trusted brands in all of marine and car audio. You can't go wrong with this Kicker tower speaker package
Kicker KM65 6.5 Inch Marine Grade Coaxial Speakers with LEDs White & Charocal Grilles 4 Ohm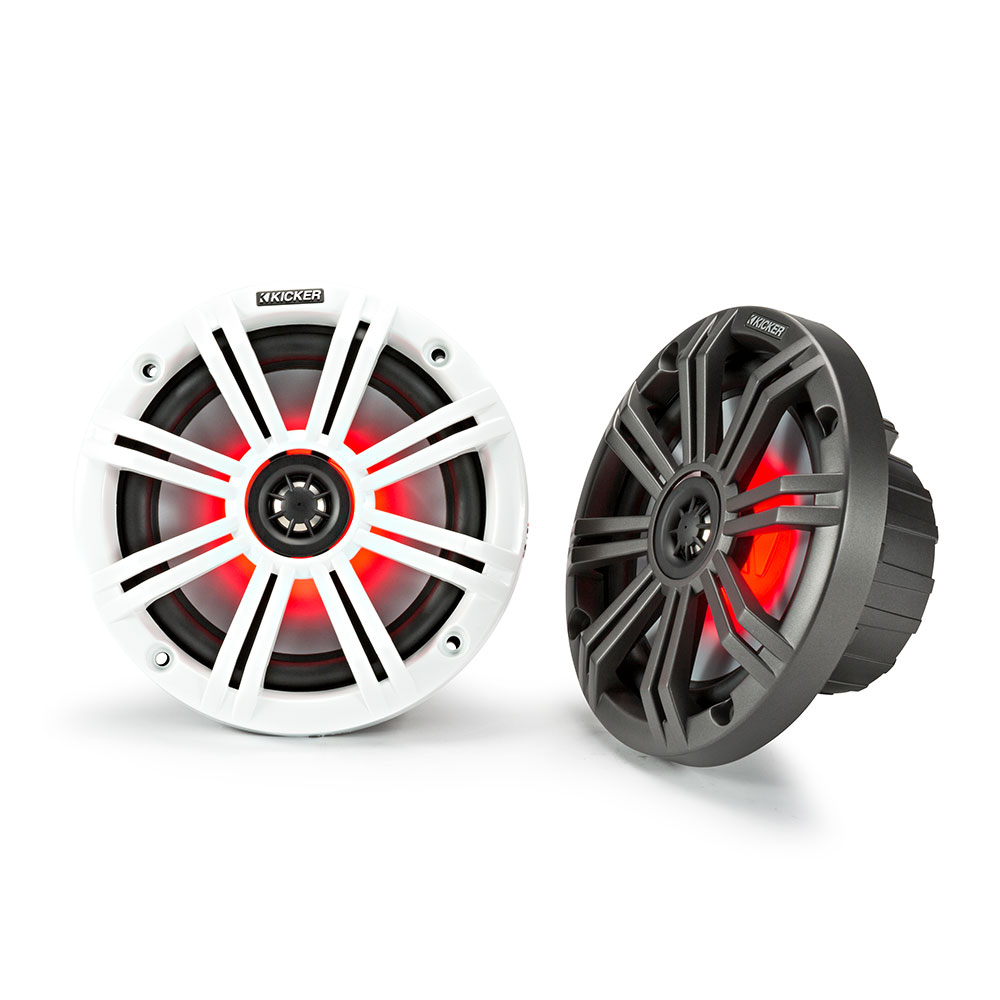 RMS Power Handling
65 Watts
Peak Power Handling
195 Watts
Frequency Response
35 Hz - 21 Khz
Sensitivity
90.0db @ 1W/1m
Mounting Depth
2.785" (72mm)
Mounting Hole Dia.
5.125" (130mm)
Grilles Included
Both White and Charcoal
LED Lighting
Yes (Use KMLC to Control)
Kicker KMTC11 11 Inch Marine Horn Loaded Tower Speakers Charcoal Pair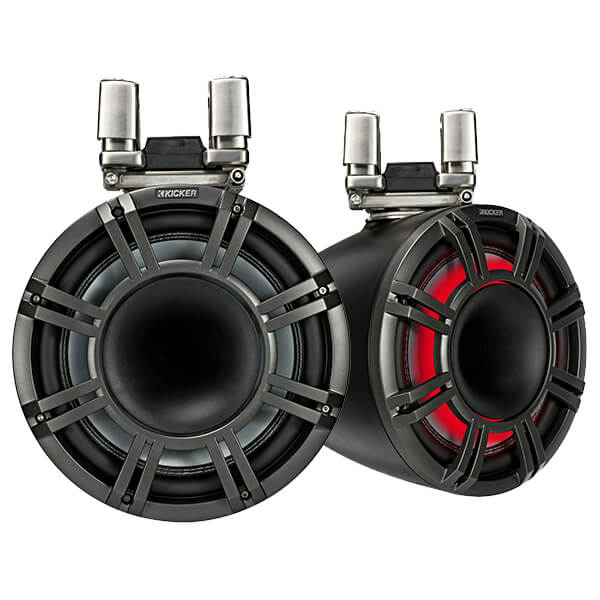 RMS Power Handling
300 Watts
Peak Power Handling
600 Watts
Tweeter Type
Horn Loaded Compression Driver
Enclosure Dia.
11.875" (302mm)
Enclosure Depth
12.6875" (323mm)
Height Incl. Bracket
15.5625" (396mm)
Height from Bottom of Bar
13.625" (346mm)
How do I wire the hull speakers?
The speaker wiring for this package will require you to wire 4 speakers to either the Amp1 or Amp2 outputs on the KXMA400.4. This will drop the impedance down to a 2 ohm load, but it will double the power output of the amplifier. You shouldn't hear a difference in volume or sound quality between the 4 speakers and the 2 speakers. If you do think you hear something, you can adjust the gains accordingly to level it out. Please see the wiring diagram for more details
How do I wire the tower speakers?
The tower speaker wiring is the same as the hull speakers. Wire the tower speakers off of the KXM 1200 watt, 2 channel amplifier and connect positive to positive and negative to negative for the left and right speakers respectively. If your tower has been pre-drilled to run wire, you can run wire through the tower, you can choose to drill into your tower, or you can run the wire along the tower. If you run wire along the tower, we recommend using zip ties every couple of inches for a clean install that is not going to flap in the wind.
How do I wire LEDs in the speakers?
The LEDs in the speakers require 6 conductor speaker wire, or some refer to it as multi-function cable, or RGB speaker wire. This wire is jacketed cabled with 2 larger 16 AWG conductors for the audio signal and power, and then 4 smaller conductors to power the LEDs. The LEDs will illuminate as a single static color when powered on. The black wire is for 12V power. Whichever colors you connect to ground will be the colors that will illuminate. If you connect, splice, and ground only the red wires, you will get red. The same is true for both blue and for green. You can also combine colors for more options. Red/Green make lime green, Red/Blue make magenta, Blue/Green make aquamarine, and Red/Blue/Green make blue-white. See the owner's manual for more details.
Are clamps included with the tower speakers?
Yes, the Kicker horn tweeter tower speakers include a dual clamp design for each speaker and they swivel 359-degrees so that you can aim them exactly where you want to, depending on whether you are towing someone behind the boat, or on dry land with the boat docked.
Is the amp wiring kit included?
No. We do not include the amp wiring kit because every boat ends up being different. Depending on the location of your amps and the battery location, the power wire might need to be 20+ feet long for one boat and only 9 feet long for the next. The way to solve for this would be to include a 20 foot long amp wiring kit in with every package. This would then force the customer than only needs 9 feet to overpay for something he or she doesn't need.
Similar to the amp wiring kit situation, we also don't include the RCAs because we don't know the length you need and it varies from boat to boat.
Is speaker wire included?
Speaker wire is not included. Once again, we don't know the exact length you might need. If we include it, we have to make sure we err on the side of including too much as opposed to too little.
Why Should You Buy from MarineStereo.com?
Free Shipping on Orders over $100

You don't have to pay for shipping on all orders over $100. Applies to the continental US only. Orders under $100 are a flat rate, $9.95.

Free Returns

You can return any item within 30 of receipt. Continental US only. No re-stocking fees. We email you a label. You drop it off at a FedEx location. Items must be un-installed and in the original packaging.

60 Day Satisfaction Guarantee

We sell the best products in the industry. If you decide within 60 days that you don't like the way your boat sounds, let us know. We will work with you to exchange your products for something else. We want you to be happy with the way your boat sounds, we believe in the products we sell, and we are confident that we can find a solution that will put a smile on your face.

Online Authorized

We are online authorized to sell the best marine audio products in the world. When you buy from MarineStereo.com, not only do we stand behind the product, but so does the manufacturer. We are online authorized for JL Audio, Wet Sounds, Kicker, Rockford Fosgate, Fusion, Memphis, Stinger, Hertz, and more. Your warranty is valid.