What is Included?
This package includes the following:
(6) JL Audio M6 8.8" Speakers
(2) JL Audio M6 8.8" Tower Speakers
Choice of 1 or 2 JL Audio M800/8 800W 8 Channel Amplifiers
(1) 4 AWG Marine Amp Wiring Kit per Amplifier Selected
The JL Audio M6 speakers are probably the best sounding marine speakers in the world. While most marine speakers use titanium or aluminum dome tweeters, the JL Audio M6 speakers use specially treated silk dome tweeters that provide that rich, warm, balanced output while still withstanding all the elements. If you are looking for the best of the best and you are willing to spend the money, definitely go with the JL Audio M6. The M series amplifiers are known for their reliablity, sound quality, and relatively small footprint. You can run the M series amps all day long without worrying about your music cutting out. They have unmatched thermal management and their actual power output exceeds their RMS power rating.
JL Audio M6-880X-S-GwGw 8.8" Marine Speakers Sport White Grilles
RMS Power Handling
125 Watts
Peak Power Handling
250 Watts
Recommend Amplifier Power
50-250 W/Ch.
Frequency Response
38 Hz - 20 Khz +/- 3db
Sensitivity
90.5db @ 1W/1m
Mounting Depth
5.0" (127mm)
Mounting Hole Dia.
7.375" (187mm)
Bolt Circle Diameter
7.97" (202mm)
Frame Outer Diameter
8.80" (224mm)
JL Audio M6-880ETXv3-Gw-S-GwGw 8.8" Marine Tower Speakers Gloss White Sport White Grilles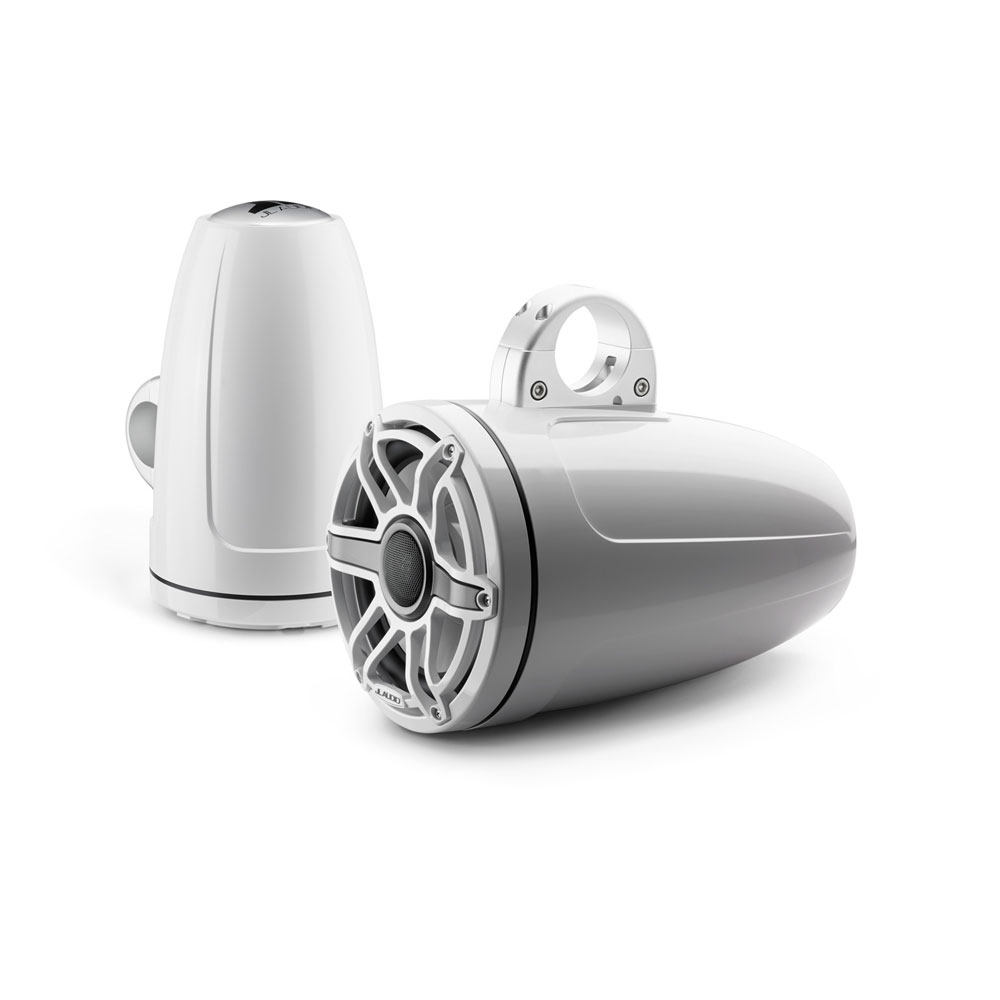 RMS Power Handling
125 Watts
Peak Power Handling
300 Watts
Recommended Amplifier Power
50-250 W/Ch.
Frequency Response
38Hz - 25 kHz +/- 3db
Sensitivity
90.5db @ 1W/1m
Enclosure Dia.
8.80" (224mm)
Enclosure Depth
14.73" (374mm)
Height w/ Mounting Clamp Receiver
9.67" (246mm)
Clamp Receiver Offset
.87" (22mm)
JL Audio M800/8v2 800 Watt 8 Channel Marine Amplifier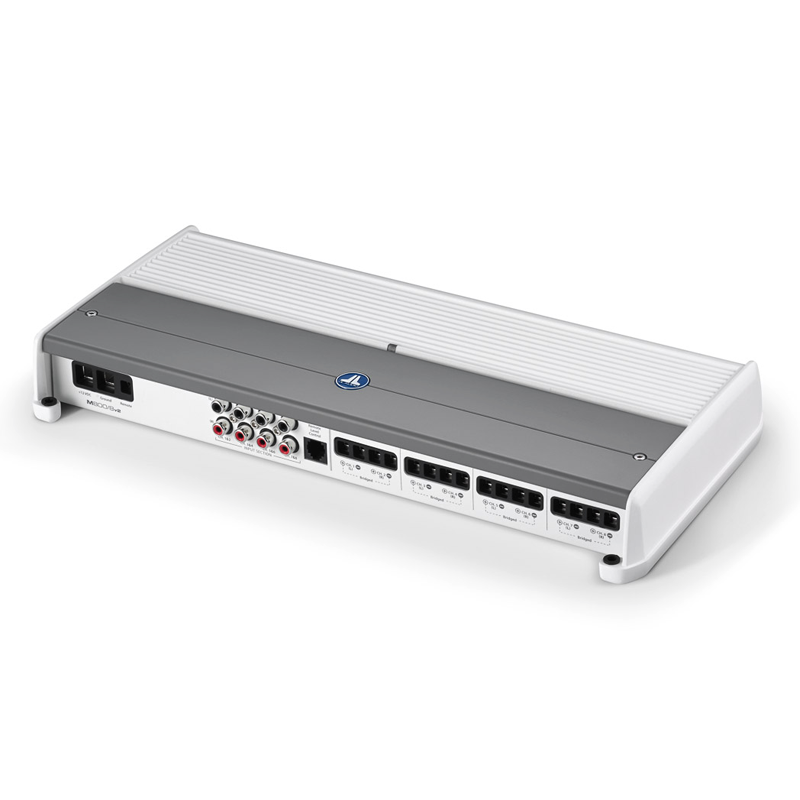 Rated Power @ 4 Ohm (Full Range)
75W x 8
Rated Power @ 2 Ohm (Full Range)
100W x 8
Rated Power @ 4 Ohm (Bridged)
200W x 4
Frequency Response
12Hz - 22kHz
Input Sensitivity
100mV - 4V
Filters
OFF, High-Pass, Low-Pass
THD+N @Rated Power
<1.0% @ 2 Ohms
Selectable Input Mode
Yes (2/4/6/8 Ch.)
Pass-Through Pre-Amp Output
No
Recommended Power Wire
4 AWG
Remove Level Control
Yes (HD-RLC)
How do I wire the hull speakers?
Powering the speakers for audio is straightforward with this package. For each channel, connect positive on the amplifier to positive on the speaker and negative on the amp to negative on the speaker. Do this for all 6 speakers using channels 1-6 on the M800/8 amplifier and you should be good to go. Channels 7 & 8 will be used to power the tower speakers.
How do I wire the tower speakers?
The tower speaker wiring is the same as the hull speakers. Wire the tower speakers off of channels 7 & 8 of the M800/8 and connect positive to positive and negative to negative for the left and right speakers respectively. If your tower has been pre-drilled to run wire, you can run wire through the tower, you can choose to drill into your tower, or you can run the wire along the tower. If you run wire along the tower, we recommend using zip ties every couple of inches for a clean install that is not going to flap in the wind.
How do I wire LEDs in the speakers?
The LEDs in the speakers require 6 conductor speaker wire, or some refer to it as multi-function cable, or RGB speaker wire. This wire is jacketed cabled with 2 larger 16 AWG conductors for the audio signal and power, and then 4 smaller conductors to power the LEDs. The LEDs will illuminate as a single static color when powered on. The black wire is for 12V power. Whichever colors you connect to ground will be the colors that will illuminate. If you connect, splice, and ground only the red wires, you will get red. The same is true for both blue and for green. You can also combine colors for more options. Red/Green make lime green, Red/Blue make magenta, Blue/Green make aquamarine, and Red/Blue/Green make blue-white. See the owner's manual for more details.
Are clamps included with the tower speakers?
No, JL offers both fixed and swivel clamps for their ETXv3 tower speakers and each part number is tube-diameter specific. If you scroll down to related products, you should see the clamps.
Is the amp wiring kit included?
No. We do not include the amp wiring kit because every boat ends up being different. Depending on the location of your amps and the battery location, the power wire might need to be 20+ feet long for one boat and only 9 feet long for the next. The way to solve for this would be to include a 20 foot long amp wiring kit in with every package. This would then force the customer than only needs 9 feet to overpay for something he or she doesn't need.
Similar to the amp wiring kit situation, we also don't include the RCAs because we don't know the length you need and it varies from boat to boat.
Is speaker wire included?
Speaker wire is not included. Once again, we don't know the exact length you might need.
Why Should You Buy from MarineStereo.com?
Free Shipping on Orders over $100

You don't have to pay for shipping on all orders over $100. Applies to the continental US only. Orders under $100 are a flat rate, $9.95.

Free Returns

You can return any item within 30 of receipt. Continental US only. No re-stocking fees. We email you a label. You drop it off at a FedEx location. Items must be un-installed and in the original packaging.

60 Day Satisfaction Guarantee

We sell the best products in the industry. If you decide within 60 days that you don't like the way your boat sounds, let us know. We will work with you to exchange your products for something else. We want you to be happy with the way your boat sounds, we believe in the products we sell, and we are confident that we can find a solution that will put a smile on your face.

Online Authorized

We are online authorized to sell the best marine audio products in the world. When you buy from MarineStereo.com, not only do we stand behind the product, but so does the manufacturer. We are online authorized for JL Audio, Wet Sounds, Kicker, Rockford Fosgate, Fusion, Memphis, Stinger, Hertz, and more. Your warranty is valid.