Hands down the best sound quality you will find for marine 6.5" speakers
With an 8 speaker system, playing loud isn't an issue. Make sure it sounds good.
If you want the best, you have found it
Specially treated silk dome tweeters that will withstand the elements.
Rich, warm, well balanced sound output
A totally different audio experience than other speakers with titanium or aluminum dome tweeters.
Some consider the M6 the best sounding speakers JL Audio has ever made
M600/6 600W 6 channel amp provides great power, signal processing and thermal management
Straightforward wiring speaker wiring, positive to positive, negative to negative
The amp offers superior sound quality at 4 ohms
No need to worry about overheating
Small compact footprint for the power output
Stereo system will play as loud as you want it to from inside the boat
Is there anything better than the 6.5" M6
The only way to improve the system without adding additional speakers would be to go with the larger 7.7" or 8.8" speakers. The larger speakers can handle more power, they can play louder, and they have better sub and mid-bass response. If you can fit the larger speakers, go with the larger speakers.
JL Audio M6-650X-C-GwGw 6.5" Marine Speakers Classic White Grilles
RMS Power Handling
75 Watts
Peak Power Handling
150 Watts
Recommend Amplifier Power
25-150 W/Ch.
Frequency Response
55 Hz - 25 Khz +/- 3db
Sensitivity
89.5db @ 1W/1m
Mounting Depth
3.00" (76mm)
Mounting Hole Dia.
5.00-5.25" (127-133mm)
Bolt Circle Diameter
6.13" (156mm)
Frame Outer Diameter
6.90" (175mm)
JL Audio M800/8v2 800 Watt 8 Channel Marine Amplifier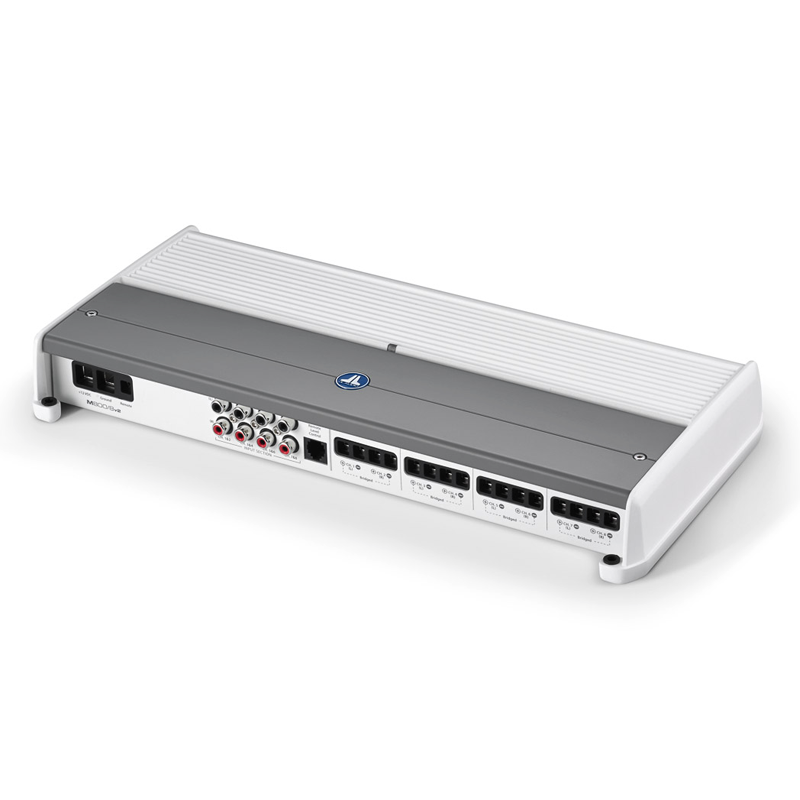 Rated Power @ 4 Ohm (Full Range)
75W x 8
Rated Power @ 2 Ohm (Full Range)
100W x 8
Rated Power @ 4 Ohm (Bridged)
200W x 4
Frequency Response
12Hz - 22kHz
Input Sensitivity
100mV - 4V
Filters
OFF, High-Pass, Low-Pass
THD+N @Rated Power
<1.0% @ 2 Ohms
Selectable Input Mode
Yes (2/4/6/8 Ch.)
Pass-Through Pre-Amp Output
No
Recommended Power Wire
4 AWG
Remove Level Control
Yes (HD-RLC)
Why Should You Buy from MarineStereo.com?
Free Shipping on Orders over $100

You don't have to pay for shipping on all orders over $100. Applies to the continental US only. Orders under $100 are a flat rate, $9.95.

Free Returns

You can return any item within 30 of receipt. Continental US only. No re-stocking fees. We email you a label. You drop it off at a FedEx location. Items must be un-installed and in the original packaging.

60 Day Satisfaction Guarantee

We sell the best products in the industry. If you decide within 60 days that you don't like the way your boat sounds, let us know. We will work with you to exchange your products for something else. We want you to be happy with the way your boat sounds, we believe in the products we sell, and we are confident that we can find a solution that will put a smile on your face.

Online Authorized

We are online authorized to sell the best marine audio products in the world. When you buy from MarineStereo.com, not only do we stand behind the product, but so does the manufacturer. We are online authorized for JL Audio, Wet Sounds, Kicker, Rockford Fosgate, Fusion, Memphis, Stinger, Hertz, and more. Your warranty is valid.